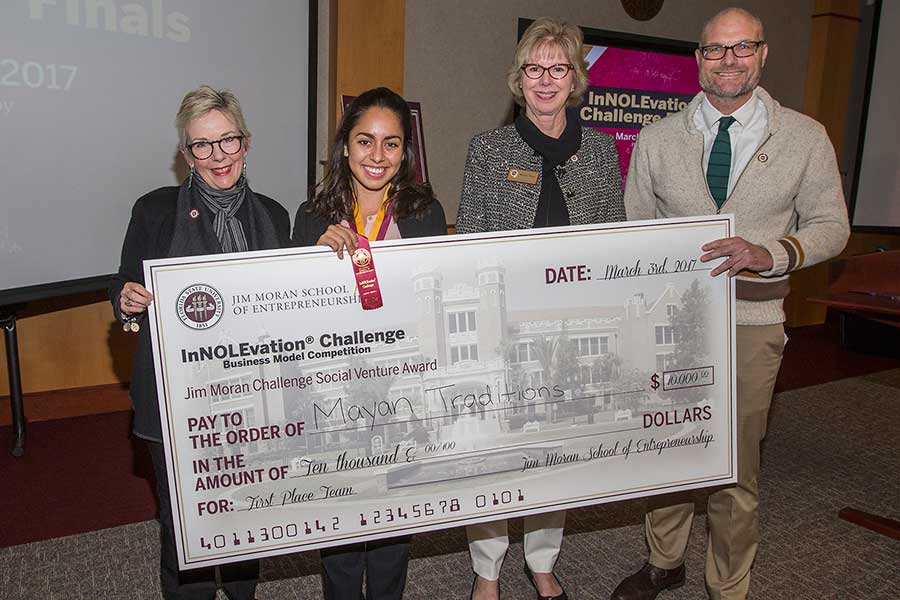 Four student-operated businesses have won top honors at the 2016-2017 InNOLEvation® Challenge business model competition hosted by the Florida State University Jim Moran School of Entrepreneurship.
The competition, which paid out more than $35,000 to winners, included two first-place awards. One focused on a social problem and another focused primarily on entrepreneurship.
Hannah King and David Olusola and their business, Mayan Traditions, won first place for the Jim Moran Challenge Social Venture Award and received prizes totaling $11,000.
Tucker Russ and his business Safebriight earned $10,000 for winning the Mark K. Scott Infinity Funds Prize. Daniel Wax and Ethan Cohen earned second place and $7,500 for their business, Tutor Direct. Third place and $5,000 went to Matt Hedine, Fiona Robertson, Brad Bone, Kendall Parker and Jorge Cabrera for their business, PowerTrak.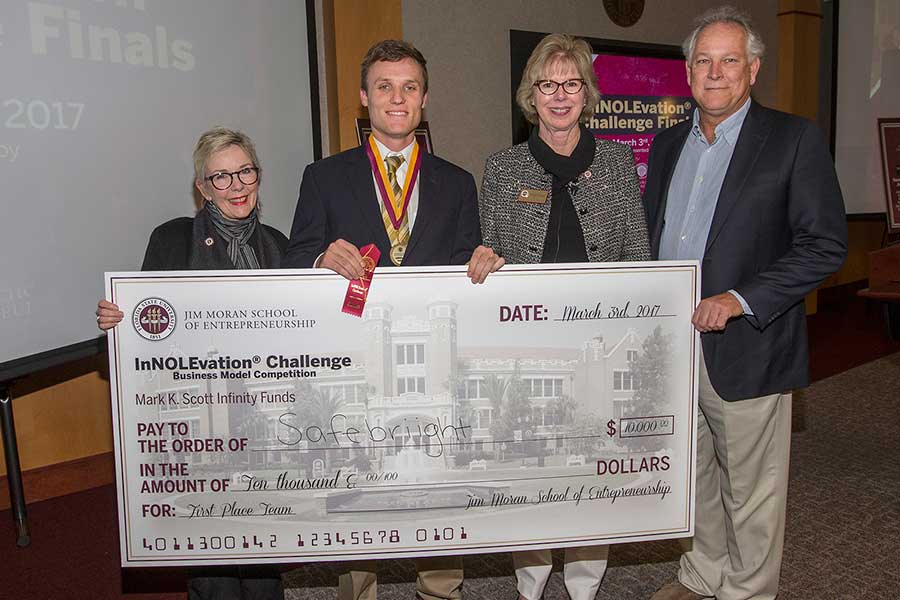 "This has been a really incredible year as we started with more than 100 interested student businesses," said Wendy Plant, director for the Center for Student Engagement for the Jim Moran School of Entrepreneurship. "It was tough watching judges narrow applicants down to seven, but we are really excited for those who moved forward to the finals. This is the first year there is an additional first place award for a social venture, and it's a great opportunity for these businesses to help solve a societal problem with this prize money."
Seven business teams had seven minutes apiece to make presentations to a panel of judges of successful entrepreneurs, accountants and attorneys on March 3. The other competitors were Aquaholic Engineering, PlayBall and STEM Veterans USA.
The competition takes place over two semesters. Students submit parts of their business model leading up to the finals.
The annual InNOLEvation® Challenge provides students from all majors and levels with a chance to gain valuable experience in innovation and entrepreneurship. The competition challenges students to identify problems and potential solutions; build effective teams and define the assumptions of a new venture; test those assumptions in the field; and make adjustments based on lessons.
The Jim Moran School of Entrepreneurship has hosted workshops so Entrepreneurs in Residence and experts in different industries could talk to students about how to create a business. Students learned about emerging technologies; design thinking; the business-model canvas; prototyping; effective presentations; and determining costs and revenues.
Teams also took advantage of other important resources, including the Business Law Clinic in Florida State's College of Law, as well as the CPAs and business advisers of Carr, Riggs & Ingram, LLC.
In advance of the finals, aspiring entrepreneurs honed their business pitches at weekly events called 1 Million Cups. They took place every Wednesday and attracted entrepreneurs from the Tallahassee area.
"We'd also like to thank our sponsors," Plant said. "We were fortunate to have the support of Mark K. Scott Infinity Funds; Carr, Riggs & Ingram; Domi Station; Leon County Research and Development's Entrepreneurial Excellence Program; Peter Papagianakis Business Law Firm, LLC; FSU's Program in Interdisciplinary Computing; and Brand Ferland Advisors."
For more information about the InNOLEvation Challenge®, visit jimmoranschool.fsu.edu. The application process for the 2017-2018 InNOLEvation Challenge® opens next fall.
About the Jim Moran School of Entrepreneurship
In December 2015, Florida State University announced the creation of the nation's largest interdisciplinary, degree-granting school of entrepreneurship, the Jim Moran School of Entrepreneurship, as part of a major gift from Jan Moran and The Jim Moran Foundation. Students will participate in traditional case study learning along with innovative hands-on application and experiences. Students accepted in the inaugural 2017-2018 class will graduate with a Bachelor of Science or Bachelor of Arts in entrepreneurship.