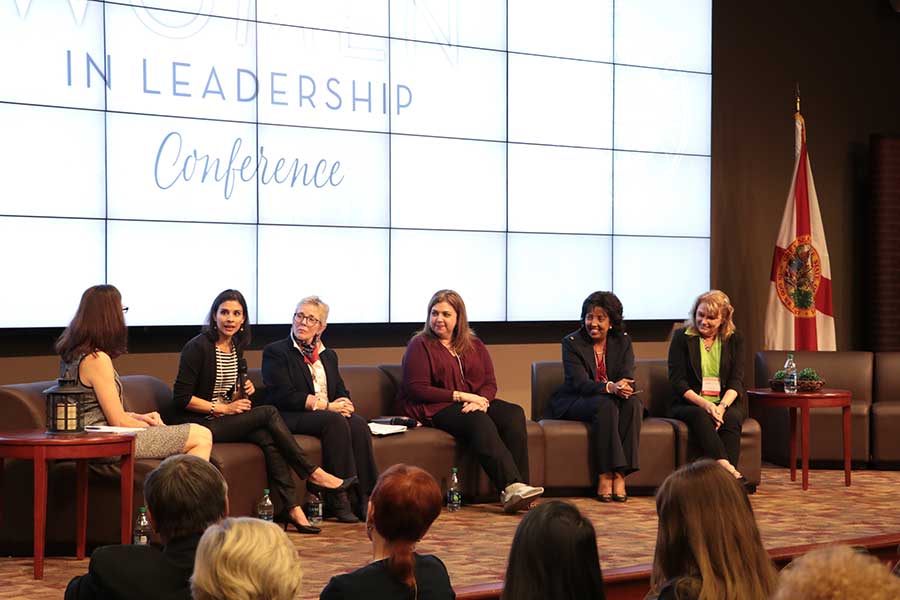 On the eve of Women's History Month, more than 500 people came together for Florida State University's fourth annual Women in Leadership Conference on Feb. 28 to glean advice from numerous seasoned female professionals from a variety of fields.
The conference, which attracted students, faculty and administrators, local leaders, community members and alumni, addressed the challenges facing female leaders and gave techniques to overcome those hurdles. In four years of existence, the popular event has more than doubled in size.
"I've seen a lot of the same faces back wanting to do more now," said Ebe Randeree, associate dean for Finance and Administration at the FSU College of Communication and Information, who organized the event. "This year, we had panels that were relevant that people asked for and workshops that concentrated on 'how to.' How do I start my own company? How do men work as partners in supporting women? How do we address diversity in leadership? I brought in some people who could actually answer those questions, so our participants could learn something that they could also apply."
During the opening discussion, a panel of female leaders shared the fundamentals of their success and how they navigated their journey to leadership roles in their chosen professions.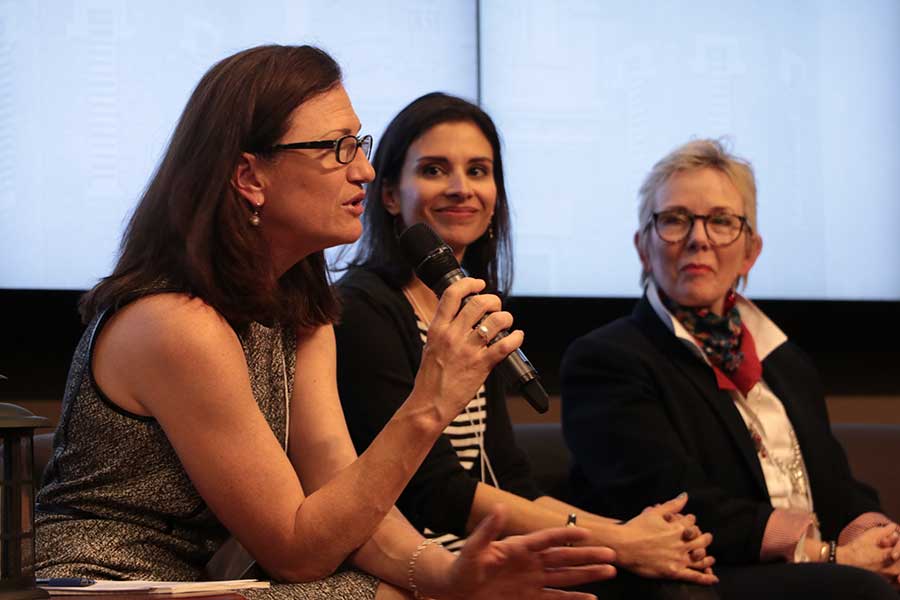 Laura Osteen, director of the Center for Leadership and Social Change at FSU, moderated the panel, which examined topics such as how we see ourselves as leaders, gender expectations, gender differences and lifelong learning.
While the panelists came from different backgrounds and generations, there were many common themes in their experiences as female leaders.
A few highlights of the opening discussion were:
Janet Kistner, vice president for Faculty Development and Advancement at FSU
Kistner, a widely published scholar in the field of child clinical psychology, is responsible for supporting faculty development throughout FSU in her current role. During the panel, she advised women that their different strengths are beneficial in leadership.
"I don't think we're necessarily born with different sex characteristics other than the obvious physical ones, but I think we get nurtured or socialized in a certain way. I think some of those are just wonderful strengths to bring into leadership roles."
Julie Dunn, vice president of Brand Distribution at Turner Content Distribution
Dunn, who graduated from FSU in 1994, serves on the FSU Foundation Board of Trustees. She credits her experience at Florida State for shaping her as a leader.
"I really kind of came into my own when I stepped foot on this campus, and I think that's why I'm so committed to Florida State, because it shaped the experience I had here so much. It's so remarkable that Florida State has this conference to share information and to gain critical skills and be able to develop as a leader so you can go out into the world."
Dunn also shared some advice from a leadership coach about how, generally, women are detail-oriented and the first to assume responsibility for action items.
Her coach told her, "You need to give yourself a little more credit for being a strategic thinker, and you need to understand that detail-oriented is not a leadership skill. It's what gets the job done. You need to understand the details, but you need to pull up from them in order to really be a leader and set the direction."
Maureen Isern, executive producer, MOPED Productions
Isern founded MOPED Productions in 2007. The company develops and produces broadcast, digital and key audience content for entities such as Bravo, Discovery, Sony and PBS. She encouraged women to always prepare for meetings and know the data.
"It doesn't matter what gender I am. It just matters that someone asked a question, and I have an answer."
Susan Fiorito, director of the Jim Moran School of Entrepreneurship
Fiorito, whose research focuses on retailing, small business management and buying, has been a faculty member at FSU since 1990. She encouraged women to speak up, even if they are the only woman in the room.
"At first, years ago, I was hesitant to say what I felt. Now — and I tell my daughter this — say what you think, mainly because we all have a different perspective. We have something to contribute that no one else does, so speak your mind. Sometimes, it's hard to say that first word when people are talking over you, but when you do, it feels good."
Leon County Judge Nina Ashenafi Richardson
Judge Ashenafi Richardson, the only female judge in Leon County, urged women to not buy into stereotypes, regardless of which gender they refer to. Ashenafi Richarson was the first African-American president of the Tallahassee Women Lawyers and the Tallahassee Bar Association, and she is also the first elected Ethiopian-American judge in the United States.
"Don't believe the hype. If we're going to break barriers, then we have to shatter the perceptions and the negative talk. Don't judge organizations, don't judge the stereotype, don't judge other people. As women, we don't want others to stereotype us or put us in a box, so we certainly don't want to do that to our male counterparts. If you approach your male counterparts without putting up a barrier, you're going to have a much better time in getting along with them and leading them."
Following the opening panel, the conference broke into smaller panels of local women leaders, where college students could ask questions about topics like entrepreneurship, networking, leadership in the community, STEM and government. The conference concluded with five hour-long workshops that focused on putting knowledge into action.
The event was sponsored by Florida State's College of Communication and Information, College of Business, College of Social Work and the Jim Moran School of Entrepreneurship.
Save