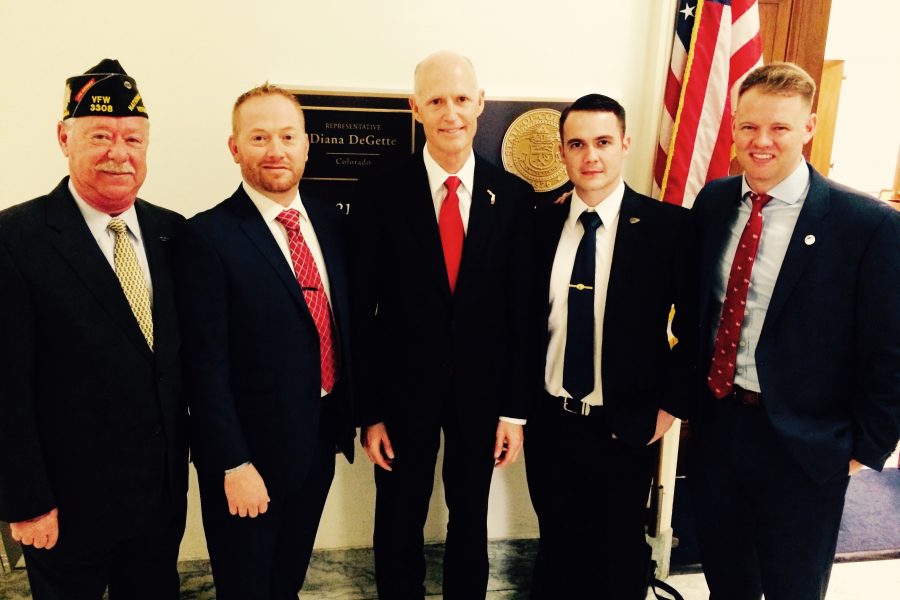 Two Florida State University student-veterans are attending the VFW National Legislative Conference from Feb. 26 to March 3 in Washington, D.C., to advocate on behalf of all student-veterans, service members and their families.
Ryan Taylor, a Marine Corps veteran, and Ryan McKibben, a U.S. Army veteran — both natives of Tallahassee — were chosen to represent Florida State at the conference as a part of the VFW-SVA Legislative Fellowship program.
"I was incredibly honored to be selected as a legislative fellow for the Veterans of Foreign Wars," Taylor said. "This year we lobbied in favor of H.R. 748 which is the GI Bill STEM extension act. This bill would allow for an additional nine months of GI Bill benefits for student veterans studying STEM disciplines. As a chemistry student at FSU and graduating this May, this issue is near and dear to my heart. I am so incredibly fortunate to have attended such a supportive university and local community."
The Veterans of Foreign Wars has partnered with Student Veterans of America to host the third annual VFW-SVA Legislative Fellowship program. Taylor and McKibben, along with eight other exemplary student-veterans from different universities across the country are participating.
"Our student-veterans across the country are leaders," said Billy Francis, director of the Student Veteran Center at FSU. "We are very proud of Ryan and Ryan. This is a tremendous opportunity for them to contribute on the national level."
Taylor and McKibben joined more than 500 other VFW members at the conference and are paired with VFW mentors who will accompany them around Capitol Hill for in-person meetings with members of Congress, educating legislators on the issues facing today's student-veterans. They will also have additional opportunities to meet with policymakers from federal agencies responsible for implementing veterans policy, as well as reporters who cover military and veterans affairs.
"Through our fellowship program, the VFW and SVA seek to work with exemplary student-veterans to hone their unique skills as advocates on campus, in the community and on the national stage," said VFW National Commander Brian Duffy. "The VFW sees this fellowship as yet another way of supporting our shared mission with SVA to transform today's scholars into tomorrow's leaders."
The VFW-SVA Legislative Fellowship is a semester-long academic experience that involves research, action, reporting and advocating on behalf of one of four veterans' policy areas: success in higher education; transitioning from military to civilian life; succeeding in the civilian workforce; and crafting the future of veterans' health care.
"SVA has partnered with the VFW for the past three years to host the annual VFW-SVA Legislative Fellow program," said SVAs President and CEO Jared Lyon, who is also a member of VFW Post 3308 in Tallahassee, Fla. "The opportunity provides exceptional student-veterans the chance to make their voices heard on Capitol Hill and with other organizations in the veterans advocacy space. We are fortunate to have a strong partner, the VFW, to offer this program and are grateful for their support empowering tomorrow's leaders."
Each selected fellow submitted a policy proposal addressing one of these issues. In 2016, four fellows received academic credit for their experiences — a success that the VFW and SVA seek to build upon with the 2017 fellowship class.
For more information, visit www.vfw.org/studentfellowship/.