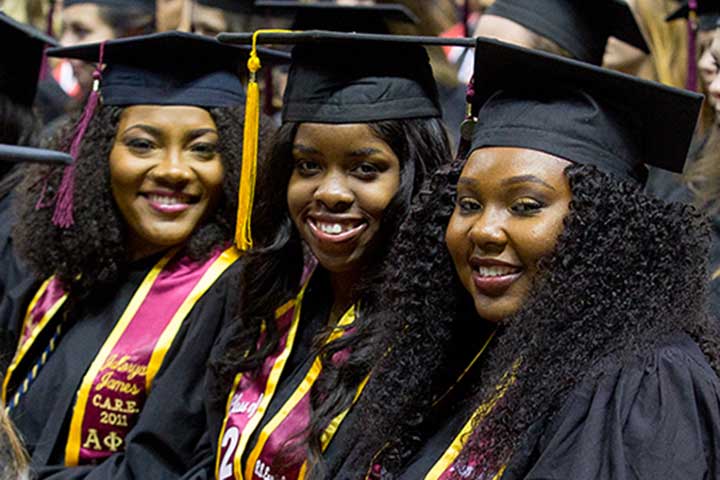 Florida State University has one of the highest graduation rates among African-American students of nearly 700 universities examined in a new national study.
The report from The Education Trust finds 74.5 percent of FSU's African-American students — who make up 8.4 percent of the student body — graduate within six years. Nationally, about 40 percent of full-time, African-American students earn a degree in six years.
"This recognition is a testament to Florida State's commitment to diversity and student success," said Assistant Provost Joe O'Shea. "Underrepresented students are more likely to graduate if they attend FSU compared to nearly any other public university in the country."
The student population at Florida State consists of 31.9 percent underrepresented students.
The report — "A Look at Black Student Success: Identifying Top- and Bottom-Performing Institutions" — also examines the gap between graduation rates for white students and black students.
Data from the National Center for Education Statistics shows the graduation rate for African-American students nationally is about 22 percentage points below the rate for white students. At Florida State, that gap is 2.7 percent and ranks in the top 20 nationally.
The report measures graduation rates for African-American students at 676 public and private nonprofit higher education institutions across the United States.
It identifies top-performing colleges and universities and presents them as examples that should be emulated. In addition, the study focuses on underperforming institutions that, researchers say, "need to get far more serious about success rates" for their African-American students.
Researchers followed freshman students who enrolled at an institution in the fall of 2008 and completed a bachelor's degree within six years. The 2014 graduation rates are the most recent available.
Of the 676 institutions measured by The Education Trust, the study included 362 four-year public and 314 four-year, private nonprofit institutions. The Education Trust highlighted 18 colleges and universities, including FSU, with the best results.