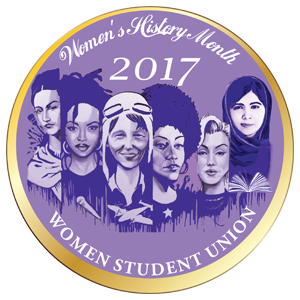 Florida State University's Women Student Union (WSU) and the campus community will celebrate Women's History Month during the month of March with activities centered around the theme of "Well Behaved Women Rarely Make History."
The theme has the goal of creating a month of empowerment to elevate women personally and professionally so they can conquer the world around them with confidence.
"For this year's theme we are building off of the precedent set by boundary-breaking women in history and reshaping what it means to be a feminist in contemporary times," said Shana Rosenthal, director of Women's History Month at FSU. "We will build ourselves professionally and personally and empower each other to be the boundary-breaking women of the future."
Key events will include:
Monday, March 6
"Hidden Figures"
7 p.m. and panel 9 p.m., Askew Student Life Cinema
Movie screening of the hit movie "Hidden Figures," which features the untold story of black women working at NASA, who served as the brains behind one of the greatest operations in history. WSU will be tabling the event before the screening. A panel discussion with women in STEM on campus will follow the film.
Tuesday, March 21
"Milk and Honey" Book Talk
7 p.m., Strozier Library, 005A Scholars Commons
A facilitator will lead a group discussion on WSU's WHM book of the month "Milk and Honey," by Rupi Kaur. Due to the limited quantities of "Milk and Honey," please fill out the questionnaire if you plan on attending and you do not already own a copy of the book. For more information, visit bit.ly/WHMBookTalk17.
Thursday, March 23
Ladies' Legacy Banquet
7 p.m., Union Ballrooms
The Eighth Annual Ladies' Legacy Banquet is a celebration of amazing female students, faculty, staff and alumni at FSU. The event includes dinner, awards, keynote speaker and live music. Cocktail attire is encouraged. Pre-registration required at bit.ly/LLBN17.
Friday, March 24 – Saturday, March 25
"Vagina Monologues"
7 p.m., Augusta Conradi Studio Theatre, first floor of the Williams Building
The WSU presents the annual production of Eve Ensley's ground-breaking play, "The Vagina Monologues," written based on hundreds of interviews with women of varying race, ethnicity, social class and sexual orientation. The play hopes to provide audiences with an insight on what it means to identify as a woman.
Saturday, March 25
Women's Leadership Conference
1 p.m., Student Services Building, second floor
The Women's Leadership Conference is an annual event hosted by WSU during Women's History Month with the intent of fostering relationships, building leadership skills and strengthening communities of women on campus. The conference will begin with a performance choice workshop, followed by lunch and will finish off with a keynote speaker. For more information or to register, visit bit.ly/WLC17registration.
For a full schedule of events or more information, visit sga.fsu.edu/whm17.