Bob Sasser, chief executive officer of Dollar Tree, Inc., advised Florida State University graduates that with hard work and a college degree, the odds will forever be stacked in their favor.
Sasser delivered a lively address full of inspiration Saturday morning at the second of Florida State's two fall commencement ceremonies held Dec. 16 and 17, at the Donald L. Tucker Civic Center.
FSU President John Thrasher presided over both ceremonies as the university awarded degrees to more than 2,500 graduating students.
Sasser, an alumnus of Florida State, began with a simple statement.
"A college degree will change your life."
He spoke words of wisdom cultivated by his own success — encouraging graduates to adopt four "healthy practices."
"One: build a solid foundation of core values — success demands honesty and integrity. Two: set high goals, make a commitment and you will be destined for success. Three: embrace change and new opportunities. Four: cultivate a good support system."
These graduates were all smiles at their commencement ceremony.
Sasser, a member of the FSU Board of Trustees and the FSU Foundation Board of Trustees, earned a Bachelor of Science degree in marketing from Florida State University before going on to lead the retail empire Dollar Tree, Inc.
He is a dedicated member of the Florida State community, including a lifetime member of the FSU Alumni association, a member of Seminole Boosters, a Double Golden Chief and a member of the FSU Presidents Club. He and his wife, Pamela, are also generous donors who made a gift to launch the College of Business campaign to build Legacy Hall, which will be equipped to deliver the business education of the 21st century.
Sasser left students with a quote from the poem "Invictus," by William Ernest Henley.
"I am the master of my fate, I am the captain of my soul."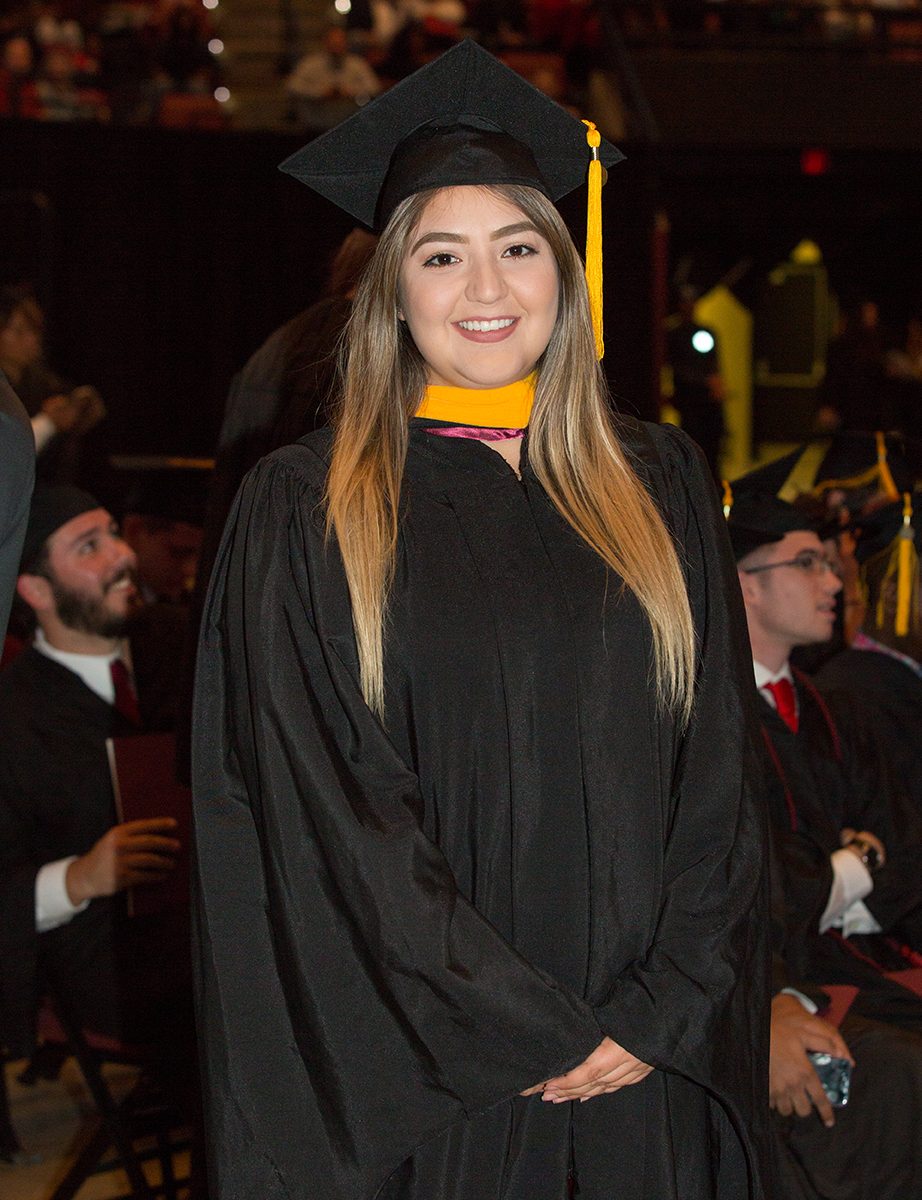 His words motivated and encouraged students for the future and left them proud after accomplishing the next step to new success — getting their college degree.
"As a first generation American, the first in my family to attend a university and most importantly as a woman of color, I feel incredibly honored to be receiving my master's degree," said Valeria Vargas Caro, a graduate with a master's in media and communications studies.
"None of this would have been possible without the never-ending support of my family, and all of the incredible people I have met here. I'm overwhelmed with happiness, eternally grateful for this experience and could not be more excited to see what the future holds after graduation," Vargas Caro said.
"Be the Air Conditioning" – Schlenoff Inspires and Challenges Graduates
More than a thousand graduates Friday night received encouragement and a pointed challenge from FSU's world-renowned chemistry professor Joseph Schlenoff.
He's built a long list of scientific accomplishments during his career, including:
He's credited with creating the field of multi-layer polymers.
His creative ideas have earned 37 patents.
His work inspires scientists around the globe.
Schlenoff aimed to inspire graduates to build their own futures, lead and improve the world.
"It's time for you to take charge," Schlenoff said. "Show by example."
Schlenoff this year was named Florida State's Robert O. Lawton Distinguished Professor, the highest honor presented to a faculty member. He assured graduates they're well prepared to pick up where Baby Boomers have left off in righting wrongs and creating positive change.
"Your wisdom exceeds ours in many ways," Schlenoff said.
With that bit of encouragement, the Leo Mandelkern Professor of Polymer Science joked he had whittled down his usual 35-point plan for success to two essential points, which got an enthusiastic cheer from the crowd.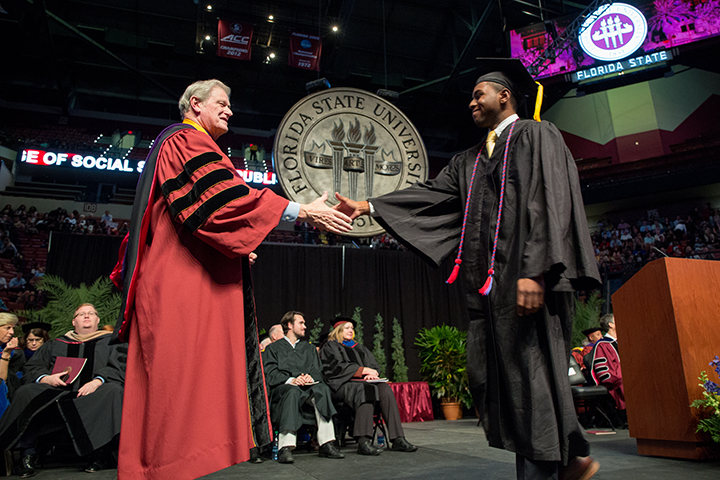 Point No. 1: Be the air conditioning.
Noise and heat are making the planet hotter, Schlenoff said. Tempers are rising at home and abroad; patience runs thin; extreme ideologies divide us. He urged graduates to inject cool reasoning into life's heated moments.
"It will be you turning on the air conditioning. How?" Schlenoff asked. "It's all about Vires, Artes, Mores. Strength, skill, character. 'But wait,' you say, 'We're not in charge. You aging Baby Boomers are in charge.' Here's a secret: We're kind of stuck. We're relying on you. We're counting on you."
Point No. 2: Build something.
Schlenoff encouraged graduates to keep building their brains, building ideas, building lives and businesses.
"Great businesses come out of nowhere," Schlenoff said. "They are made by sheer creativity, leadership and teamwork. Build your Vires, Artes and Mores. Tune your strength, skill and character to the highest level."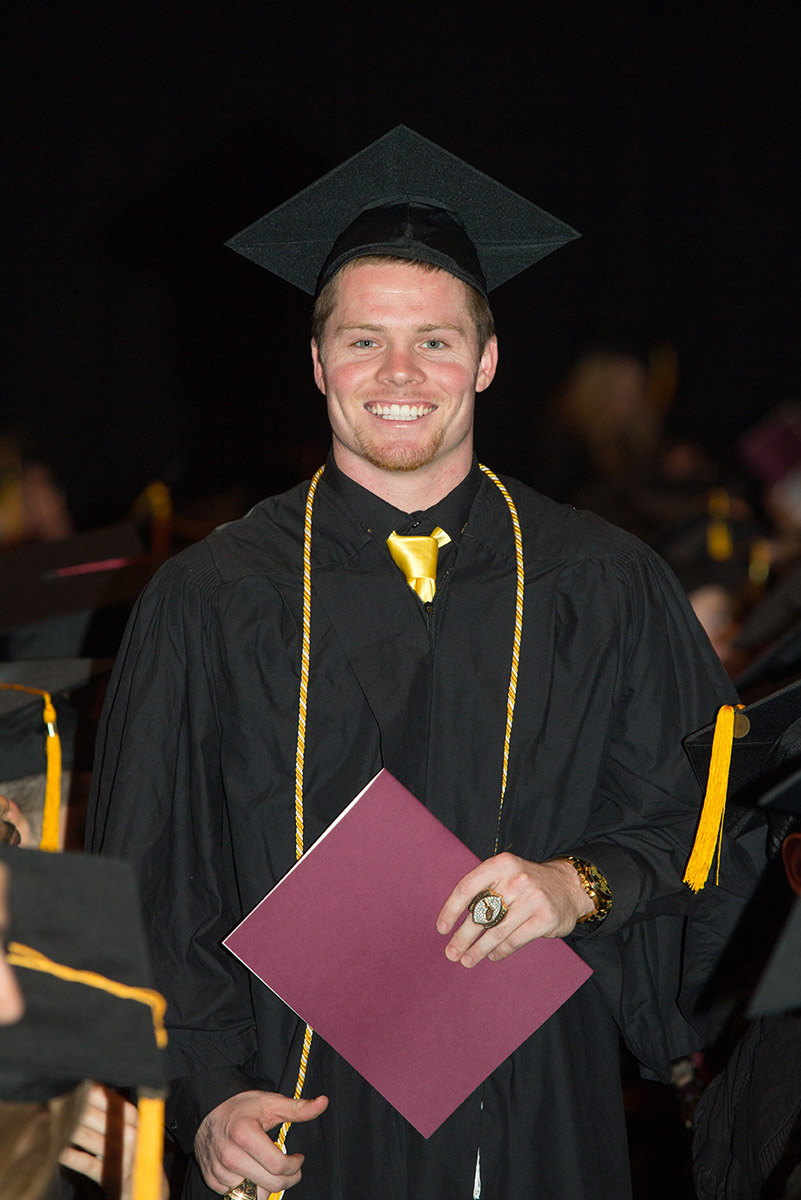 Those words resonated with graduate Steven Williams, whose experience on the Seminoles' football team helped make his FSU experience awesome. Now, he feels Florida State has prepared him to reach his dream of becoming a pilot.
"I used to be really nervous thinking about my future after finishing up school," Williams conceded. "I had no idea what I wanted to do and if I was going to make the right choices that would benefit my future most. Once I went through FSU, a lot of my questions got answered. The career development class was probably one of the most beneficial classes I have ever taken."
Schlenoff offered one other bit of advice for graduates about their new path ahead: Live with courage and show others what courage is, especially in failure
"Make your mistakes. Embrace them. Celebrate them. And learn from them," Schlenoff advised. "And don't take yourself too seriously. In the words of Mark Twain, 'Always dance like nobody is watching.'"
Save