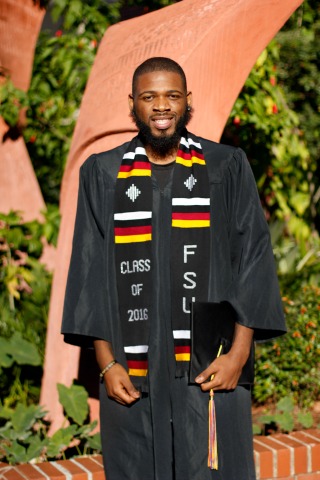 The Center for Leadership & Social Change, Student Government Association and Center for Academic Retention & Enhancement will recognize 67 graduating seniors at the Rite to A-rak-ke-ce-tv cultural graduation ceremony at 6 p.m. Thursday, Dec. 15, in the Oglesby Union Ballrooms.
The name "A-rak-ke-ce-tv" is the Seminole Creek phrase meaning "to honor" as we seek to honor students' accomplishments, honor their families and friends for their continued support, and honor what it truly means to be a Seminole.
Florida State University's cultural graduation program highlights the valued relationship with the Seminole Tribe of Florida and honors Seminole culture and tradition.
The May ceremony celebrated 150 graduating seniors by having friends, family members and mentors place a stole over graduates' shoulders. Participation demands are growing each year and this semester marks the first time the ceremony will be offered for fall graduates.
This semester's keynote speaker is Toni Sanchez, a Seminole tribe member who holds a creative writing degree from Florida State University.
Kevon Randall, who graduates this month with a Bachelor of Science in interdisciplinary social science, will offer a student reflection. Randall has been involved in numerous leadership roles on FSU campus and plans to continue his education by earning a Master of Business Administration from Florida A&M University.