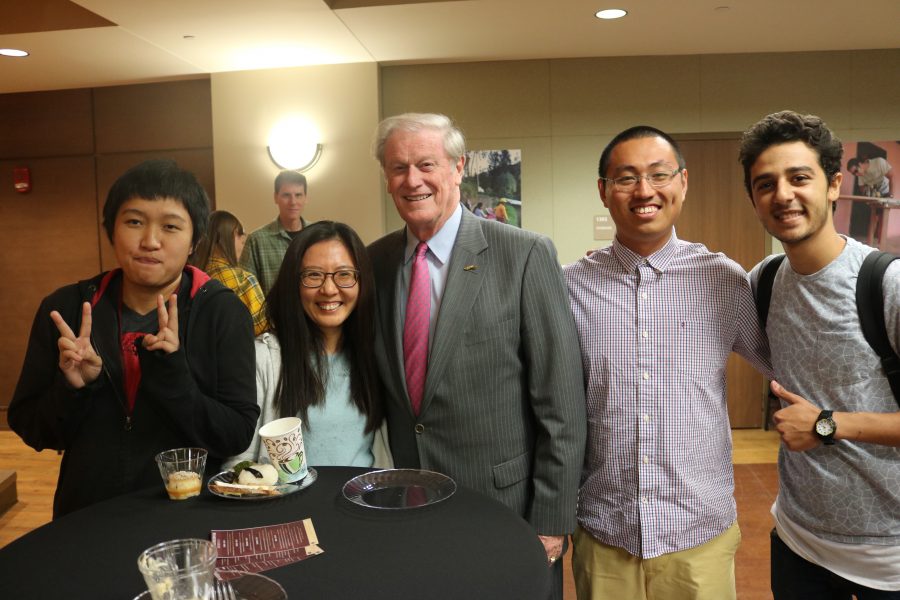 Florida State University celebrates International Education Week along with the rest of the nation this week with many opportunities to appreciate the benefits of international education and exchange worldwide.
The Center for Global Engagement kicked off International Education Week with an opening reception, co-hosted with International Programs, Monday, Nov. 14, at The Globe to honor faculty, scholars and students who contribute to the internationalization of Florida State. President John Thrasher and Vice President for Student Affairs Mary Coburn gave opening remarks and welcomed everyone to share in celebrating this worldly, all-embracing event.
"We're proud that we have a campus community that promotes interaction among students and faculty from around the world," Thrasher said. "Our goal is to expand FSU's global footprint and continue to foster a culturally rich learning environment on campus."
International Education Week is a joint initiative of the U.S. Department of State and the U.S. Department of Education to promote programs that prepare Americans for a global environment and attract future leaders from abroad to study, learn and exchange experiences in the United States.
At FSU the annual initiative features a variety of events that includes film screenings, performances, workshops, discussions, International Coffee Hour and Going Global, a showcase of students' international experiences around the world.
Florida State is steadily making progress in internationalization efforts each year both on campus and abroad.
This fall more than 475 new international students marked the highest number to arrive in one semester in Florida State history. With the new students FSU's overall enrollment increased to more than 2,200 students from over 120 countries.
This week the Institute of International Education's Open Doors Report, funded by the U.S. Department of State's Bureau of Educational and Cultural Affairs, ranked Florida State No. 12 in the nation for institutions awarding credit for study abroad. With 2,262 students actively participating in international study, research, internships and service in more than 75 countries worldwide during the 2014-2015 academic year.
FSU also made headlines this fall with the introduction of the new GAP Year program and is one of two public universities in the United States that allows freshmen to defer enrollment for a year to travel and participate in service and activities that promote personal growth.
The impact of having such a large international student population is apparent in the opportunities for cultural engagement provided by the programs offered at the Center for Global Engagement, including Global Cafés, International Coffee Hour, the Intercultural Program Series and the annual International Bazaar.
"I am proud of the accomplishments that we have made to internationalize our campus," Thrasher said. "I know that these efforts will continue to grow and result in more and more students going out into the world and broadening their horizons."
For more information and a schedule of events, visit cge.fsu.edu/iew.html.