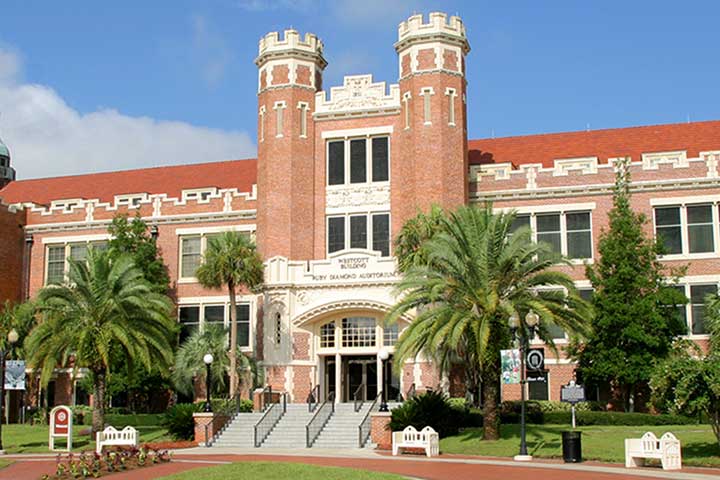 Florida State University has set its sights on being among the nation's most entrepreneurial and innovative universities as part of the university's new strategic plan, "The Future is Florida State." 
The Florida State University Board of Trustees approved the university's new strategic plan for 2017-2022 at its regular fall meeting Oct. 28. 
"Florida State University is already preeminent," said Ed Burr, chair of the FSU Board of Trustees. "This plan gives us a vision that will help FSU be even stronger five years from now." 
Along with being among the nation's most entrepreneurial and innovative universities, Florida State's vision is to be a university that places a premium on interdisciplinary inquiry and draws from its rich intellectual and personal diversity. 
"We think the new strategic plan captures an entrepreneurial spirit at FSU that has long distinguished it from other universities," FSU President John Thrasher said. "Virtually every profession demands a certain level of entrepreneurial thinking. We want to ensure that we are nurturing an environment that encourages innovation and entrepreneurship in all of our programs across campus." 
The result of widespread input from faculty, students, staff and alumni from all of FSU's colleges, programs and disciplines, the strategic plan brings fresh momentum to the university's upward trajectory and offers an ambitious blueprint for capitalizing on FSU's strengths. 
"FSU is on a great trajectory as our recent five-place rise in the national rankings and the transformational $100 million Moran gift in support of entrepreneurship indicate," said Provost Sally McRorie, who co-chaired the Strategic Planning Committee with Kyle Clark, vice president for Finance and Administration. 
"The new strategic plan is designed to boost this rising arc of success to even higher levels. I am thrilled with the plan and all that it envisions for FSU over the next five years." 
FSU will pursue six strategic goals to achieve its vision: 
Deepening Our Distinctive Commitment to Continuous Innovation

Amplifying Excellence Across Our Academic and Research Programs

Realizing the Full Potential of Diversity and Inclusion

Ensuring Student Success on Campus and Beyond

Preparing our Graduates for 21

st

-Century Careers

Investing Strategically in Our Institution and Reputation. 
"It was a pleasure to serve on this committee and be a part of a broad effort that sought input from all of our constituents," said Mark Hillis, a member of the Board of Trustees and Strategic Planning Committee. "I think the end result reflects our shared vision for moving the university forward."
FSU partnered with industry-leading consultants AKA|Strategy to create the action-focused plan that addresses the university's strengths, challenges and strategic opportunities. 
A committee of senior executives, faculty members, staff, alumni and students from around campus formed the primary working group for the strategic planning process.
View the complete strategic plan at strategicplan.fsu.edu.