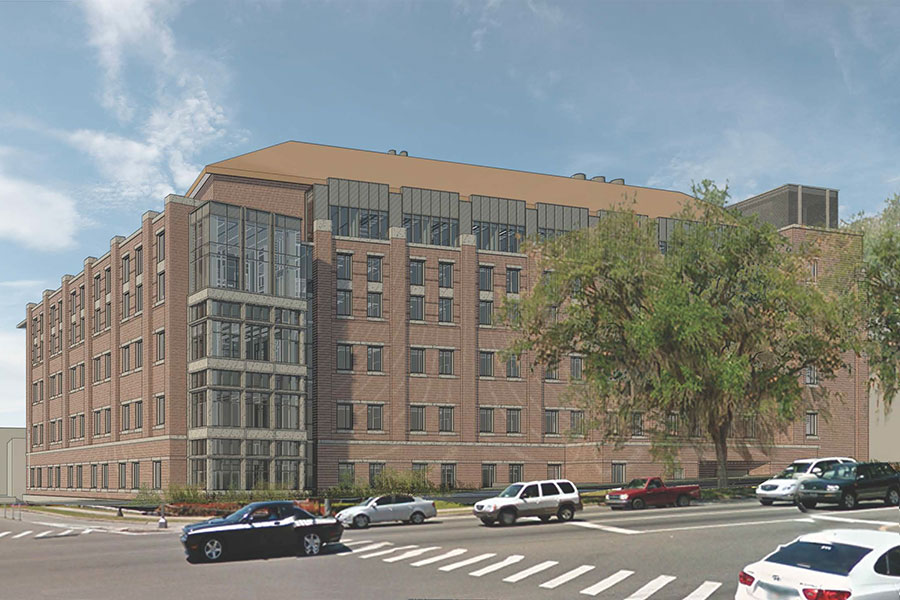 Florida State University officials and the university's Board of Trustees broke ground on a new building Thursday that will house the university's nationally recognized Earth, Ocean and Atmospheric Science department.
At completion, the facility will include offices, classrooms, teaching labs, research labs and academic support spaces for the department that comprises the fields of environmental science, geology, meteorology and oceanography. Currently, faculty from these disciplines are spread out across three different buildings on the FSU campus that were built in the 1950s and 1960s. The new building will bring them together in a new collaborative space designed to facilitate research, education and outreach.
"The new building is a testament to the high-quality research being conducted by the Earth, Ocean and Atmospheric Science Department," FSU President John Thrasher said. "By bringing the different disciplines from EOAS together in one building, we are providing a collaborative environment for them that we hope will enrich the research and educational opportunities for both our faculty and students."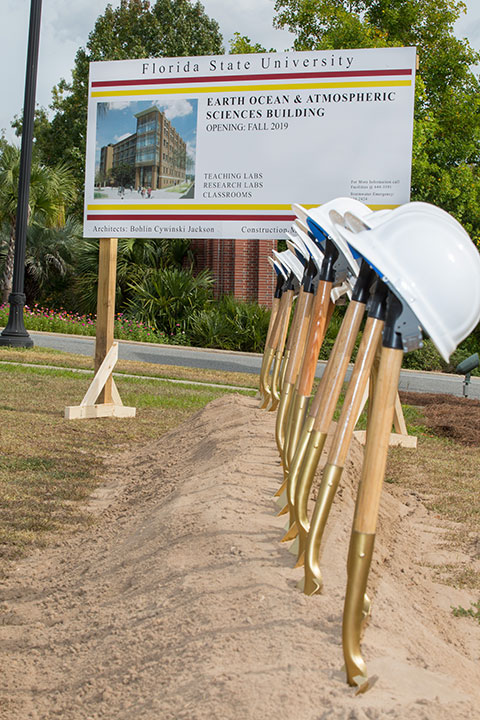 The seven-story, 130,536 square foot building will include 18 general research labs, 10 specialized research labs and 10 computer labs. There also will be equipment shops and storage space, plus a TV studio for meteorology students. There also will be a lecture hall that seats 280 people, an assembly room that seats 100 and six departmental conference rooms. The space includes 120 offices for faculty, graduate students and postdoctoral researchers.
"This building will contain modern laboratories that allow research in diverse areas like hurricane prediction, the exploration of Mars and understanding of the global carbon cycle," said EOAS Department Chair James Tull. "The new building and its occupants — students, staff and faculty — will for many decades serve as a center of excellence for both the state of Florida and the nation by providing highly trained graduates in a number of critical earth science disciplines as well as important research solutions and understanding of the natural world."
EOAS currently consists of 42 tenured or tenure-track faculty, more than 400 undergraduate students and about 140 graduate students. The department also offers general education science classes to broaden the backgrounds of FSU undergraduates.
The faculty in these departments conduct research around the world, including in the Democratic Republic of Congo, the North Pole, Brazil, the South Pacific and the Gulf of Mexico. Many of these researchers played a vital role in studying how the Deepwater Horizon oil spill affected the rich ecological system of the Gulf.
"Since the merger that created the department, EOAS has been expanding its reach across the earth sciences," said College of Arts and Sciences Dean Sam Huckaba. "The degree programs are thriving and the faculty have been tremendously productive. The future building, though, will energize the department in ways not yet seen, allowing it to reach new levels of excellence. There is a decisive level of excitement in the air as this building project launches."