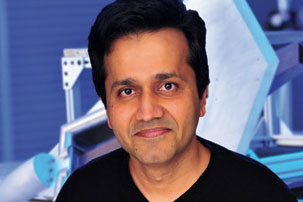 Florida A&M University – Florida State University College of Engineering Professor Farrukh Alvi has been named the new Don Fuqua Eminent Scholar Chair in Engineering and Science.
Alvi is a professor of mechanical engineering and the director of the Florida Center for Advanced Aero-Propulsion.
"Farrukh Alvi embodies the highest values in an engineering college," said College of Engineering Dean J. Murray Gibson. "He is an outstanding leader in research, is an excellent teacher and is dedicated in his service to the college and the community."
A selection committee of representative faculty in engineering and technology selected Alvi based upon his extensive academic credentials, broad experience in engineering academia and distinguished record of research.
Alvi came to Florida State in 1993, when he joined the university as a postdoctoral research associate. He received his bachelor's degree in nuclear engineering from University of California at Berkeley and his doctorate in mechanical engineering from the Pennsylvania State University.
Alvi has published extensively in the areas of fluid dynamics, aerodynamics, flow control and aeroacoustics. He is the founding director of the Florida Center for Advanced Aero-Propulsion, a statewide multiuniversity Center of Excellence. He is a fellow of the American Society of Mechanical Engineering and an associate fellow of the American Institute of Aeronautics and Astronautics (AIAA). He also served as an associate editor of the AIAA Journal.
"I'm very privileged to be selected for this chair," Alvi said. "I will do my best to use the resources and opportunities afforded by this honor to continue to enhance education and research at the College of Engineering."
While at Florida State, Alvi has worked on a number of issues related to aerospace. Over the past few years, his research has focused largely on flow and noise control, including control of supersonic impinging jets, cavity flows and flow separation. He is a nationally recognized expert in the development and implementation of actuators, particularly micro-fluidic actuators for flow and noise control applications and holds a number of patents in this area.
In 1979, the Don Fuqua Eminent Scholar Chair was established as part of the state of Florida's eminent scholar program to strengthen the state university system with the addition of distinguished scholars in technology, space exploration and engineering. Fuqua served in the U.S. House of Representatives from 1967 until 1987. He became the chairman of the Committee on Science and Technology in 1979.
Fuqua's efforts led to the development of NASA's space shuttle program and the International Space Station. He sponsored landmark legislation to strengthen the U.S. technological education base, further the development of space technology in American life and promote the development of alternative energy sources.
Gifts from corporate and individual donors were made in honor of the congressman to complete the endowment.
Alvi is the second professor of engineering o receive this notable title. Now retired-Professor Anjaneyjulu Krothapalli, the first professor hired at the FAMU-FSU College of Engineering, received the honor in 1993.