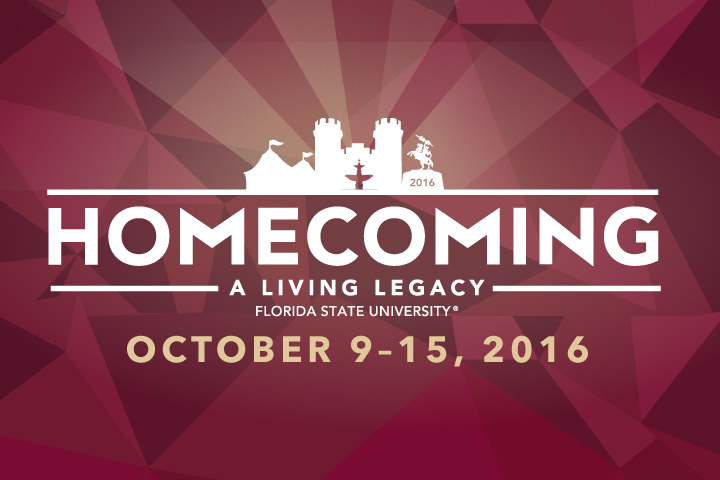 Florida State University will celebrate Homecoming with the theme "A Living Legacy" beginning Sunday, Oct. 9, through Saturday, Oct. 15.
Live performances, a street parade and FSU's largest pep rally highlight this year's events leading up to the Homecoming football game against Wake Forest at 3:30 p.m. Saturday, Oct. 15.
WEDNESDAY, OCT. 12
Warchant, featuring Chance the Rapper and special guest Francis and the Lights, will take place at 8 p.m. at the Donald L. Tucker Civic Center, 505 W. Pensacola St. Tickets for the general public are sold out.
FRIDAY, OCT. 14
The Homecoming Parade, organized by the Student Alumni Association and featuring more than 60 student groups, will begin at 2 p.m. starting on West Madison Street at the Donald L. Tucker Civic Center. The parade will head north along Martin Luther King Jr. Boulevard, turn west along College Avenue and south onto Copeland Street. DeVoe and Shirley Moore will be this year's grand marshals.
A live parade feed will be available at alumni.fsu.edu/parade for those unable to attend.
Pow Wow, the annual pep rally, will take place at 8 p.m. at the Donald L. Tucker Civic Center. Stand-up comedian Whitney Cummings will take the stage with special guests The World Champion Judah Friedlander and Nicole Byer. The Homecoming Chief and Princess also will be announced. The event is free for students with a valid gold FSU ID at the door.
SATURDAY, OCT. 15
The FSU Alumni Association's Homecoming Awards Breakfast, will start at 9 a.m. in the Alumni Center Grand Ballroom. Doors open at 8:30 a.m. Awards to be given include the FSU Alumni Association's Bernard F. Sliger Award, the FSU Alumni Association and Omicron Delta Kappa's Grad Made Good Awards and the Garnet & Gold Key's Ross Oglesby Award. Tickets start at $15 and can be purchased online at alumni.fsu.edu/awardsbreakfast.
The Florida State Seminoles will take on the Wake Forest Demon Deacons at Doak S. Campbell Stadium. Kickoff time is 3:30 p.m. Student tickets go on sale at 5 p.m. on Oct. 9. Tickets for the general public can be purchased online through Seminoles.com.
For a complete list of events, visit: homecoming.fsu.edu/events.