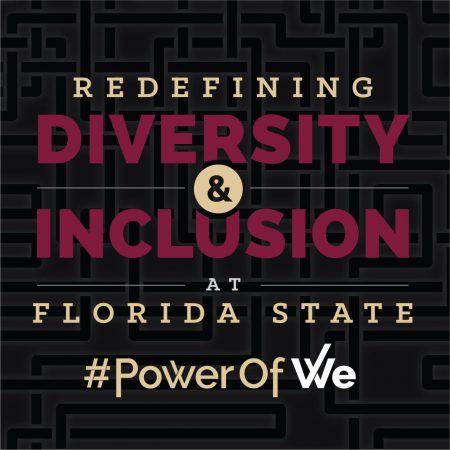 The Florida State University Student Diversity and Inclusion Council is launching a new campaign aimed at redefining diversity and inclusion called #PowerOfWe – Our Differences Make the Difference. Students will introduce the campaign, share information about programming and distribute promotional materials at 11 a.m. Tuesday, Sept. 20, on Landis Green.
The Student Diversity and Inclusion Council is a newly formed student organization composed of diverse student leaders in collaboration with the Office of the President and the Division of Student Affairs.
"The Student Diversity and Inclusion Council through the #PowerOfWe campaign is strengthening the important alliance between faculty, staff and students," said FSU President John Thrasher. "Their timely efforts are a testament to FSU's dedication to diversity and inclusion and can serve as a valuable model for other campuses."
#PowerOfWe seeks to reframe diversity and inclusion and show how crucial they are to the success of every student. The campaign integrates strategic messaging with innovative programming, like public service announcements, to underscore the relevance of students engaging each other across different perspectives and identities and provides a platform for them to individually and collectively define why diversity matters to them.
"The #PowerOfWe campaign exemplifies the power of the collective — the potential we have, the possibilities we create and the bridges we build when we embrace and engage our differences," said Inam Sakinah, junior Presidential Scholar majoring in biology and social sciences, who is the chair of the Student Diversity and Inclusion Council. "It's more than a campaign — it's a movement and an opportunity for everyone."
By engaging students and promoting connections with faculty and staff, the campaign fosters a campus culture that connects different ideas and groups of people together and allows them to interact with each other, opening up communication across the university.
"Our commitment to harnessing the 'Power of We,' emerges from our belief that diversity and inclusion can be more than buzz words," Sakinah said. "Accepting or celebrating difference is not enough. We must use our differences to make a difference."
A series of other programs are scheduled to promote the vision of the campaign throughout the year:
Public Service Announcements: A promotional video PSA is scheduled to premier during halftime at the Clemson-FSU football game at Doak Campbell Stadium Oct. 29. These will be seen throughout the year at various athletic events.
Chalkboard Conversations: Features blank chalkboards in public spaces on campus encouraging students, faculty, staff and visitors to share what diversity means and why it matters to them.
The Longest Table @ FSU: Welcomes people from different campus circles to meet for an open-air meal at the heart of campus.
Conversation X: Serves as a bimonthly opportunity for students to discuss pressing social issues and transform dialogue into action through service projects.
 For more information, visit https://powerofwe.fsu.edu.