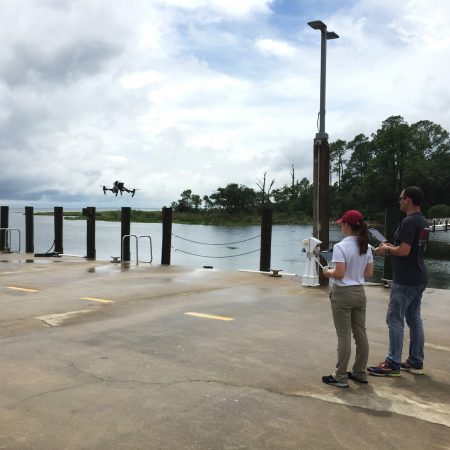 Students, faculty and staff of the Emergency Management and Homeland Security (EMHS) program at Florida State University provided valuable assistance in several capacities to support response and recovery efforts when Hurricane Hermine struck North Florida on Sept.1.
Ten EMHS students volunteered to monitor social media as part of the program's FSU Virtual Operations Support Team to track updates from those affected throughout the disaster area. By monitoring Facebook, Twitter and other Internet sources, student volunteers helped response organizations understand what was happening in the disaster impact area, greatly aiding decision-making and communication.
As Hurricane Hermine unfolded, reports from the support team identified issues that impacted local citizens, such as evacuation orders and information on flooding and power outages. These reports were then used to guide decision makers within the Florida Division of Emergency Management.
Through the EMHS program's unmanned aircraft systems program students used their training on drone operation to assist faculty and staff before and after Hurricane Hermine. A team of students and staff worked with FSU Facilities to record images of the roofs of all campus student housing, checking for storm damage. This rapid assessment provided facilities managers with a view of these buildings in a way that was not possible a few years ago.
Beyond the university, an unmanned aerial systems team worked with the State Emergency Response Team (SERT) in coordination with the state's Air Operations Branch. The team assisted the post-impact reconnaissance of Alligator Point, an area severely impacted by the storm. Videos from these flights were transmitted to the State Emergency Operation Center in near-real time for use in official briefings. Another team traveled to the FSU Coastal and Marine Laboratory in St. Teresa to compare aerial photos and 3D models from before and after the storm.
Faculty members assisted SERT throughout the activation of the Florida Virtual Business Emergency Operation Center — a web application designed, developed and maintained by EMHS that allows businesses to receive direct communication from the state during emergencies and to update their business status.
This operation center is the primary means by which businesses affected by disasters can submit damage assessment forms to the state. Throughout the activation, program faculty were present at the state Emergency Operations Center.
Finally, three EMHS students applied their classroom learning to a real-world experience as volunteers with the American Red Cross and Leon County Emergency Management. They were teamed with personnel from both organizations and assisted with damage assessments of homes and businesses. The teams also determined utility and power status at each location.
Emergency Management and Homeland Security is an academic program at Florida State University dedicated to educating students for entry into the fields of emergency management and homeland security. The program conducts research all over the United States and the world on disaster management and provides cutting-edge education to graduate and undergraduate students in the College of Social Sciences and Public Policy.