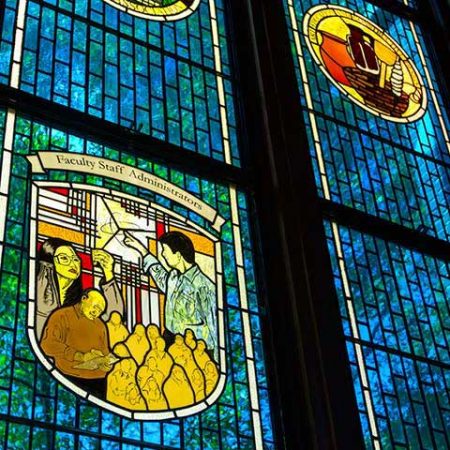 The Association of Retired Faculty at Florida State University presented a stained-glass window commemorating the dedication of the institution's current and retired faculty, staff and administrators during a ceremony June 6.
The window, which is installed in the university's Heritage Museum in Dodd Hall, depicts figures representing a diversity of academic disciplines, gender, race and age.
The idea for the window came from the late Fred Standley, a retired English professor who served as president of the Association of Retired Faculty in 2007-2008.
"Fred was known as a champion of faculty governance, for advancing women and minorities and for his generous treatment of all people," said Carol Darling, the association's immediate past president and a retired professor of family and child sciences.
Standley chaired the association's original committee that was tasked with developing the idea into a reality by working with artists from the university's Master Craftsman Studio. That committee consisted of Max Carraway, Marie Cowart, Tonya Harris, Michael Launer, Anne Rowe and Nancy Turner.
"After Fred's death a year and a half ago, we carried on with the original committee's vision of a window that represented our organization in its acknowledgement of faculty, staff and administrators," Darling said.
Darling thanked the Master Craftsman Studio artisans who created the window: Juan Comas, Karen Pritzl and Sarah Coakley, the studio's public relations director and glass artist. She also thanked the members of the association who contributed money to pay for the window.
During the ceremony, Rowe, a retired English professor and former dean of the faculties, read the window's inscription plaque: "Gift of the Association of Retired Faculty: A tribute envisioned by and, in large part, brought to fruition by Professor Fred L. Standley."
In presenting the window to the university, retired music Professor Jayne Standley remembered her husband's commitment to the association.
"He retired at age 70 and said he was going to miss teaching but was going to be so happy to give up committee work. And what's the first thing he did? Join the Association of Retired Faculty," Jayne Standley said.
"We discussed many times that Florida State is a unique and wonderful educational opportunity for our young people, and it's the people of FSU that are so committed to ensuring that each one has a quality educational experience," she said.
The association's window is one of 35 stained-glass windows that commemorate various people, clubs and milestones from the institution's history.
Each window was designed and created by the Master Craftsman Studio, a unique auxiliary of the university's Facilities Department. The studio serves numerous campus departments, creating a wide range of artistic objects that beautify the Florida State campus. FSU students who work for the studio have opportunities to hone their artistic crafts while learning the business of running a professional art studio.