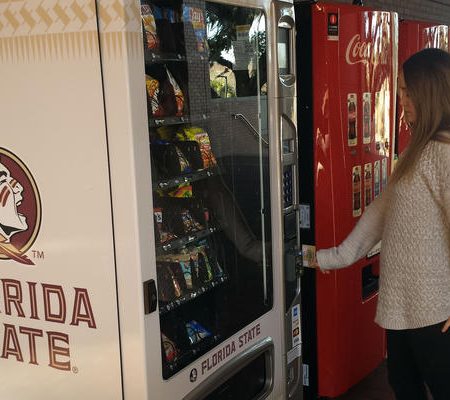 Florida State University has entered into a multiyear contract with Gilly National Inc. as the premiere snack provider in the university's student housing areas, academic and administrative buildings.
The agreement, which began January of this year, uses cutting-edge vending technology combined with interactive, multimedia touchscreens and custom designed FSU branded machines to engage consumers.
Eighty total vending machines were installed and/or updated at the end of December 2015. All machines are customized with FSU branding and accept all forms of payment including cash, credit, Apple Pay, Google Wallet and the FSU student ID through the university's currency, FSUCash. A few vending machines even have interactive features such as touchscreen displays that show ingredients, allergens, and product details.  Machines will continue to stock traditional and premium snack vending products such as chips, crackers, nuts, candy, baked goods and, in addition, a product mix of 30 to 40 percent healthy options in support of FSU's Healthy Campus initiative to maximize campus wellness.
"We are excited to partner with Gilly National in serving our students and the university community," said Charles T. Friedrich II, director of Office of Business Services. "Gilly National's innovative vending solutions, provides OBS and the university the ability to customize snack vending opportunities on campus,  increase choices, streamline operations and provide quality products to our students, faculty, staff and visitors."
"At Gilly National, we are consistently evolving with ever-changing consumer tastes and snack habits", said Gilly Vending Founder and CEO Gilda Rosenberg. "We are thrilled to be the snack vending provider for Florida State University, one of the nation's elite research universities, and look forward to a long relationship providing the campus with innovative technology and a broad selection of vending choices."
Over the life of the contract, Florida State, in cooperation with Gilly National, will continue to introduce new products, technology and equipment that will deliver and maintain the highest quality of services to the university community.