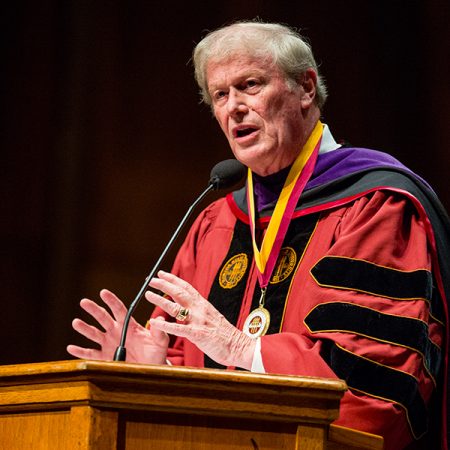 Florida State University is on the threshold of a new era, President John Thrasher told the campus community and special guests during his presidential address March 17.
The university celebrated the inauguration of Thrasher as its 15th president during a formal investiture ceremony at Ruby Diamond Concert Hall.
"My heart is truly full today as I am given this opportunity to serve the university that I love," Thrasher said.
Thrasher, who took office in November, is a two-time Florida State alumnus, a U.S. Army veteran who received the Army Commendation Medal and was awarded two Bronze stars for his service in Vietnam, and a former Speaker of the Florida House of Representatives and state senator.
The first in his family to complete high school, Thrasher expressed his gratitude for the opportunities a Florida State education afforded him, which led to serving as president at his beloved alma mater. He graduated with a bachelor's degree in business in 1965 and earned a law degree with honors in 1972.
"Today is not just a momentous day in my life, it is a day for us to reflect on this university's 164-year history, chart our course for the future and celebrate where we are right now," Thrasher said. "And there is much to celebrate."
During his address, Thrasher spoke about university's incredible growth since its founding in 1851 and how Florida State must forge an ambitious path for its future. He was optimistic those goals will be realized.
"We can —and we will —be one of the Top 25 public universities in the country," Thrasher said. "We can expand our research and commercialization capacities. We can be recognized as one of the most student-centered universities in the nation."
Thrasher said the university is already making strides in many areas with rising academic programs led by a distinguished faculty and high-achieving students. As a Tier I research institution, Florida State brought in a record $230 million in funding last year. And, the university has long been a leader in developing students beyond the classroom.
"We hear a lot in academia these days about 'the student-centered university,' but what does that really mean?" Thrasher said. "To me, it means several things. It means instilling in our students qualities that are essential for lifelong learning, personal responsibility and sustained achievement."
Looking back on the university's history throughout his speech, Thrasher repeated the words President Robert Strozier said at his inauguration in 1958.
"This is not my university or your university; rather our university," Thrasher said. "It belongs to the generations who have already given it their allegiance, just as it belongs to those who have yet to come."
Florida Gov. Rick Scott lauded the choice of Thrasher as Florida State's president.
"President Thrasher was a true champion of education during his time in the Legislature," Scott said. "I'm confident that President Thrasher will continue to be the same passionate, determined and tireless advocate for Florida State. My message to the Florida State University community today — you couldn't have picked a better person to be your president."
Florida State faculty members, more than 200 students, state and local officials, and members of the boards of directors of the FSU Foundation, FSU Alumni Association and Seminole Boosters attended the event.
The Rev. Dr. R.B. Holmes Jr. of Tallahassee's Bethel Missionary Baptist Church delivered the invocation. The Color Guard of the Seminole Tribe of Florida presented the colors and Shirley Close performed the National Anthem accompanied by the FSU Symphonic Band.
In addition to the governor, several special guests and university representatives made remarks including University Board of Trustees Chair Allan Bense; Florida Board of Governors Chancellor Marshall Criser III; Interim Provost and Executive Vice President for Academic Affairs Sally McRorie; Faculty Senate President and Trustee Gary Tyson; and 2014-2015 Student Body President and Trustee Stefano Cavallaro.
The FSU Glee Club performed the alma mater and three of FSU's student leaders —Ashleigh Gregoria, Joseph Vance and Gerald K. Johnson II — lit the torches that symbolize the university's ideals of Strength, Skill and Character.
Then, FSU Alumni Association National Board of Directors Chair S. Dale Greene presented Thrasher with an original wax transfer from Osceola's resting place at Fort Moultrie in Charleston, S.C.
Finally, Trustee Allan Bense presented Thrasher with the Presidential Medal and officially pronounced him President of Florida State University.
"I know that John cares deeply about his alma mater, and he has a true passion for wanting to make it even stronger and elevate it on the world stage," Bense said.
The investiture concluded with the presidential address by Thrasher, who closed his remarks with some inspirational words.
"At FSU, we are already excellent in many ways," Thrasher said. "We choose to reach higher."