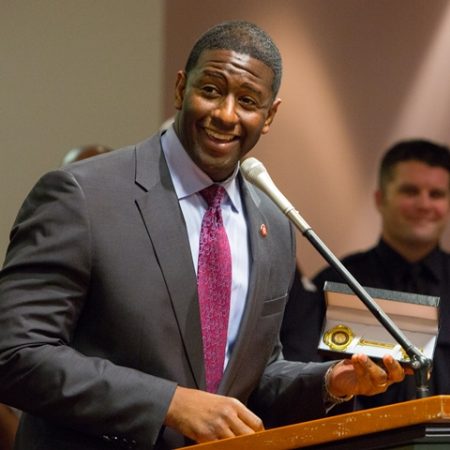 Florida State University Police first responders to the incident at Strozier Library in November 2014 received the City of Tallahassee's highest honor — the Key to the City‑- from Mayor Andrew Gillum March 11 at the City Commission meeting.
Mayor Gillum unveiled the new program to annually recognize exceptional individuals by honoring the Strozier Library first responders as well first responders from the incident at Caracas Court which also happened last November. The special recognition is the highest honor that a citizen of Tallahassee can receive from the Mayor.
"The horrific incidents at Strozier Library and at Caracas Court tried to shake the foundation of Tallahassee," said Mayor Gillum. "But Tallahassee emerged stronger than before thanks to the intense bravery and sacrifice of these first responders. It is because of them that we move forward united as a community. That is why I am awarding this highest honor to these departments on behalf of these incredible heroes. Our city owes them a debt of gratitude."
Individuals that were recognized are:Officer Wayne Staats, Investigator Scott Angulo and Officer Mark Lewis from the Tallahassee Police Department;Sergeant Roy Wiley, Officer Orenthya Sloan, Officer Daniel Cutchins, Officer Oma Nations and Officer Parise Adams of The Florida State University Police Department;Deputies Chris Smith and Colin Wulfekuhlfrom the Leon County Sheriff's Office, and Engineer Matt Coe, Engineer Ryan Varn, Firefighter Travis Fletcher, Battalion Chief Hal Eastman, Captain Tom Pescatore, Firefighter Matt Cuevas, Engineer Romney Atkinson, and Lieutenant Jennifer King from the Tallahassee Fire Department.