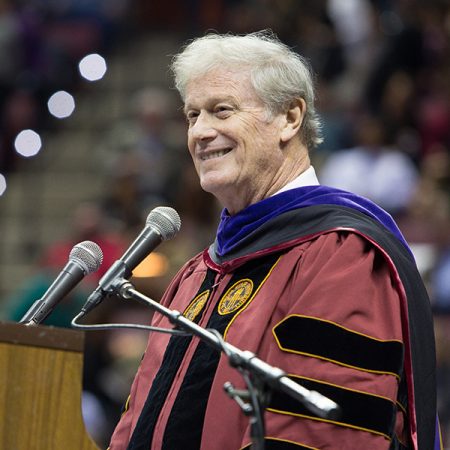 In 2014, Florida State University selected its 15th president, launched a billion-dollar capital campaign, endured a tragic campus shooting, set a record in research funding and hired key new research faculty, supported students through new initiatives and continued its tradition of competing at the highest level of intercollegiate sports.
Here is a compilation of some of the university's top stories over the past 12 months.
Thrasher named president
Former state Sen. John Thrasher began his term as Florida State University's 15th president Nov. 10, following a national search and confirmation by the Florida Board of Governors. Thrasher, a two-time Florida State alumnus, earned a bachelor's degree in business from FSU in 1965 and a law degree with honors in 1972. Thrasher is committed to taking Florida State to new heights and ensuring graduates have the academic experience of their dreams.
University announces $1 billion "Raise the Torch" campaign
Florida State University launched a $1 billion fundraising campaign that will help the university improve the student experience, serve as an economic engine for the state through research and job creation, and improve the quality of life for society as a whole through the creation and dissemination of knowledge and ideas. "Raise the Torch: The Campaign for Florida State" officially kicked off Oct. 17 with a campuswide and gala. The College of Business also celebrated the public phase of its own $112-million capital campaign. About a third of that — $35 million — will go toward the college's new $75-million building.
#WeAreFSU: Campus unites after shooting
The Florida State University campus community rallied to promote healing following a campus shooting that took place at Strozier Library in the early morning hours of Nov. 20. President Thrasher praised the quick response of the university and Tallahassee police departments that prevented further tragedy. A variety of groups held events for students and the university community, including a Student Government Association-sponsored "Gathering of Unity". The university family continues to support the victims, including Farhan "Ronny" Ahmed who was paralyzed during the shooting.
Faculty awarded record $230 million in research funding
FSU faculty earned $230 million in research grants and contracts in the 2014 fiscal year — the majority of it from federal agencies — a 15 percent increase over the prior year. FSU researchers are investigating a wide variety of projects — from how to reduce the cost the AIDS/HIV medication Nevirapin to trying to unlock the mystery of Alzheimer's disease.
kNOw MORE: Preventing sexual violence on campus
In September, Florida State University announced several initiatives aimed at preventing sexual violence on campus. ThekNOw MOREawareness campaign is Florida State's most visible effort to educate the university community about responsible conduct and the meaning of consent as well as prevention and intervention and resources for sexual assault victims.
FSU hires rising stars to bolster key research areas
Florida State University hired 15 new researchers in the Brain Health and Disease,Energy and Materials, andCoastal and Marine Research initiatives as it continues to invest in these burgeoning areas and further science and discovery as part of its mission as a preeminent university in Florida. FSU focused this latest recruiting effort on these strategic research areas based on their value to overall human advancement and the large amount of related research already occurring at the university.
Putting students first
Florida State continued its mission as a student-centric university by opening the new Honors, Scholars and Fellows House and welcoming the first class of Presidential Scholars in 2014. The house gives the university's most talented students a place where they can gather and reach the heights of their accomplishments that will undoubtedly help Florida State continue to attract the best and brightest students. The Presidential Scholars Program provides four years of support to critical and innovative thinkers who use their talents to make meaningful contributions to society.The Association of Public and Land-Grant Universities recognized Florida State as a High Tech, High Touch institution for the university's innovative practices that contribute to retaining students. Key to this success is Florida State's Advising First program within the Division of Undergraduate Studies.
Supporting our student veterans
Florida State University's ongoing initiative to address the educational needs of veterans earned national recognition from the Association of Public and Land-grant Universities (APLU). FSU received the MVP Project Degree Completion Opportunity Award, which honors an APLU member institution that has made exceptional progress during the past three years in increasing its retention and graduation of students such as minorities, low-income students and veterans. The university also moved up to No. 8 in the "Best Colleges for Vets" rankings published by Military Times.
Researcher discovers new possibilities with rare element
Groundbreaking work by a team of chemists on a fringe element of the periodic table could change how the world stores radioactive waste and recycles fuel. The element is called californium — Cf if you're looking at the Periodic Table of Elements — and it's what Florida State Professor Thomas Albrecht-Schmitt, the lead researcher on the project, calls "wicked stuff." In carefully choreographed experiments, Albrecht-Schmitt and his colleagues found that californium had amazing abilities to bond and separate other materials. They also found it was extremely resistant to radiation damage. The discovery was named one of the top chemistry stories of the year by Chemistry World.
Professor's cat project goes viral
FSU art Assistant Professor Owen Mundy's project "I Know Where Your Cat Lives," — a data visualization of 1 million public pictures of cats on a world map — went viral in July with write-ups in the New York Times, NPR and the Canadian Broadcasting Corporation, among others. Mundy created the map by using public pictures of cats posted to social media by their owners and located them by using the geographical coordinates embedded in their metadata.
Seminole athletics continues winning tradition
Florida State athletics started 2014 on a winning note as the football team topped Auburn in the 2013 BCS National Championship game Jan. 6. In the spring, pitcher Lacey Waldrop was named 2014 USA Softball National Collegiate Player of the Year as she led the softball team (55-9) to its first Women's College World Series since 2004, while the baseball team (43-17) made its 37th consecutive NCAA Tournament appearance. This fall, Florida State's indoor volleyball team (30-3) advanced to its sixth consecutive NCAA appearance and reached the third round of the tournament for the fourth time in program history. The Seminole women's soccer team closed out the year by claiming the program's first-ever NCAA championship with a 1-0 victory over Virginia Dec. 7. After finishing the 2014 season with a 13-0 mark, the football team earned a spot in the first-ever College Football Playoff. FSU football will face the University of Oregon Jan. 1 in the Rose Bowl for a chance to advance to its second consecutive national championship game.