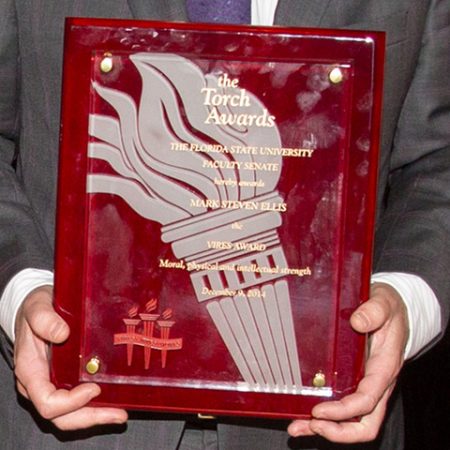 The Florida State University Faculty Senate has honored four individuals with Torch Awards, an annual recognition of contributions to the university's academic excellence.
Named for the three torches in the university's seal, the three categories of Torch Awards are: Vires, symbolizing moral, physical and intellectual strength; Artes, symbolizing an appreciation of aesthetics and the beauty of intellectual pursuits; and Mores, symbolizing respect for customs, character and tradition.
The awards were presented Dec. 9 during a reception and dinner hosted by FSU President John Thrasher and Provost and Executive Vice President Garnett S. Stokes.
Faculty Senate President Gary Tyson praised this year's recipients for their commitment to the university.
"The FSU Faculty Senate was honored to present this year's Torch Awards to four remarkable individuals who exemplify the ideals of strength, skill and character," said Tyson, who is a professor in the Department of Computer Science. "Each of these people have a long, accomplished relationship with FSU and have, through their tireless efforts, made this university a better place for all.
This year's recipients are:
• Mark Steven Ellis, Vires Award: Ellis, a prominent international lawyer, has served as the executive director of the International Bar Association since 2000. The association is composed of 203 bar associations and 40,000 individual members from 194 countries. A two-time alumnus of Florida State, Ellis earned a bachelor's degree in economics in 1979 and a law degree in 1984. He began working in the area of international law with the American Bar Association's Central European and Eurasian Law Initiative (CEELI), overseeing the support of law reform in 24 countries in Central and Eastern Europe. Ellis not only serves on the boards of the FSU Alumni Association and the FSU College of Law Alumni Association, but also regularly uses his international contacts to recruit students from around the world for a distance-learning course on international human rights, which he co-teaches with an FSU law professor.
• James P. "Jim" Jones, Vires Award: Jones, a retired Distinguished Teaching Professor in the Department of History and an authority on the American Civil War, began his teaching career at Florida State in 1957 as a "temporary acting instructor." Over the next 57 years, he taught history to more than 21,000 students and wrote numerous books, including six about the Civil War and one about the gridiron rivalry between the Florida State Seminoles and Florida Gators. During his career, he served a seven-year term as chair of the Department of History and served for 17 years as a member of the Faculty Athletic Board, including five as chair. Jones earned his doctorate from the University of Florida in 1960.
• Lucy Ho, Artes Award: Well-known in Tallahassee as a successful restaurateur, businesswoman and patron of the arts, Ho spent 45 years as the costumer of the FSU Opera, retiring in spring 2014. Her commitment to the university's opera led her to establish the Lucy Ho Fund for Excellence in Opera, which has become an important source of funding for FSU's lavish opera productions. In addition, her costumes remain part of the College of Music's costume collection. Beyond the costume shop and opera stage, Ho used her expertise as a restaurateur over the years to support students, faculty and staff by providing meals and receptions, and she also served as a mentor to generations of Asian students entering FSU from abroad.
• Debra Brock, Mores Award: A staff member who retired in 2009 with 35 years of outstanding service, Brock worked in the Department of Psychology for 26 years and the Department of English as office manager for nine years. She received the university's Max Carraway Employee of the Year Award in 2007. Over her career, Brock gained a reputation as an employee who always transcended the typical duties of a job description to become the beloved heart and soul of the department.
The Torch Awards were established in 1996 as a way for Florida State faculty to honor friends of the university who have contributed significantly to its ability to fulfill its academic mission. Faculty members make nominations to an awards committee that in turn makes recommendations to the Faculty Senate Steering Committee for approval.