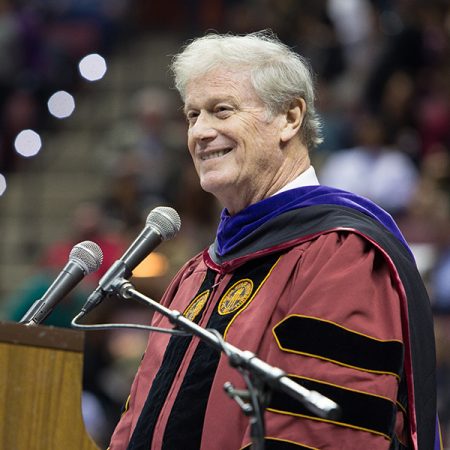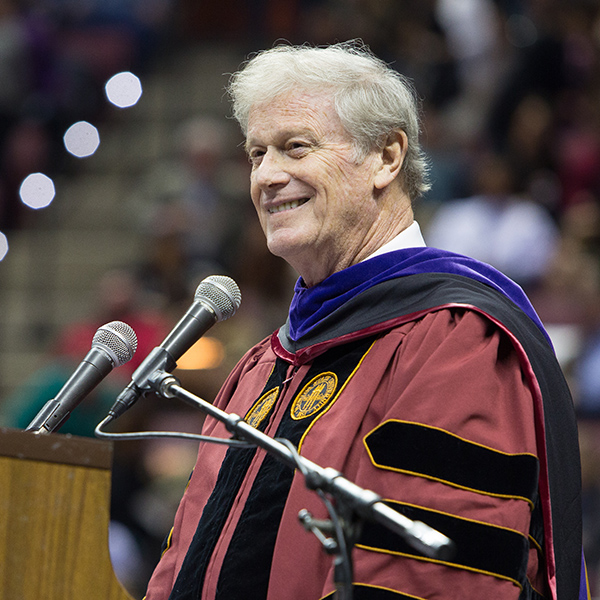 Louise Jones Gopher told Florida State University graduates "education is your goldmine" and shared why education has been such a driving force in her life.
Florida State conferred an Honorary Doctor of Humane Letters degree on Gopher, a noted champion of education and a member of the Seminole Tribe of Florida, during the second of two fall 2014 commencement ceremonies, held Dec. 12 and 13, at the Donald L. Tucker Civic Center.
John Thrasher presided over both ceremonies — his first commencement since being named university president — as Florida State awarded degrees to more than 2,600 graduating students.
After receiving her honorary degree, Gopher addressed the graduates during the Saturday morning ceremony Dec. 13, and described her challenges as a Native American student.
Though it wasn't customary among her people, Gopher's father enrolled her and her siblings in a public elementary school in Fort Pierce, Fla., where they were the first Native Americans to attend St. Lucie County's school system. At 6 years old, she couldn't speak English, but she loved opening books and looking at the pictures. When Gopher learned to read, she would come home to teach her mother the new words she had learned.
Gopher became the first member of the Tribe to earn an associates degree from Indian River Junior College, and went on to study business at Florida Atlantic University.
"When I attended Florida Atlantic University in the late 1960s it was revolutionary for a member of the Seminole Tribe of Florida to go to college and it was even more revolutionary for a woman, but I had loved the world of education for as long as I could remember," Gopher said.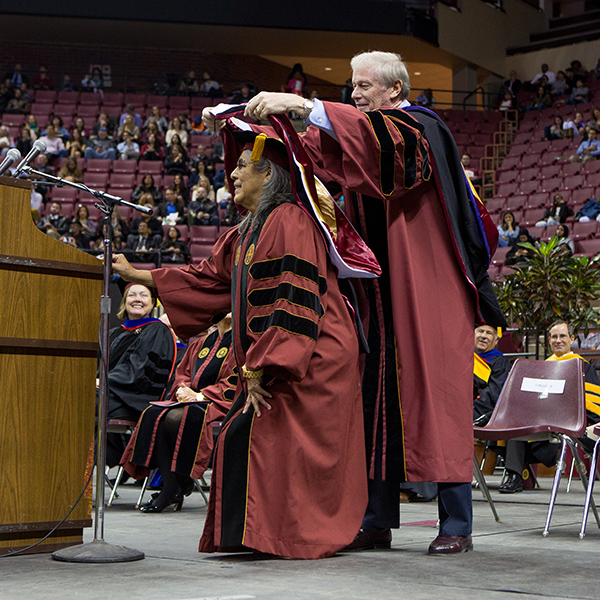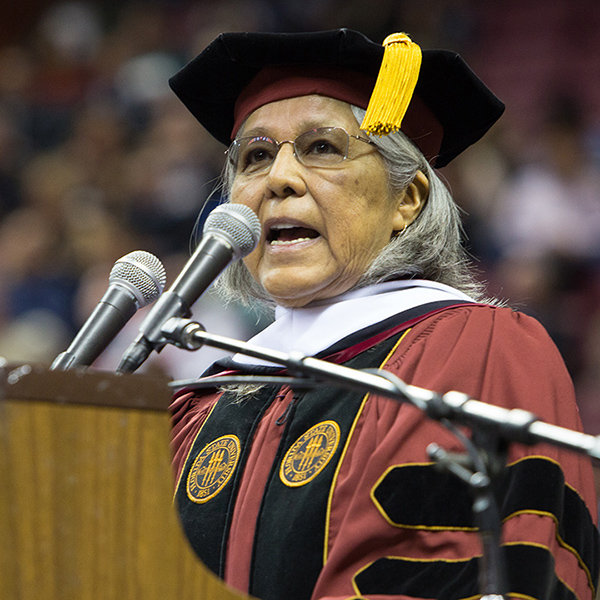 In 1970, Gopher became the first female Seminole to earn a bachelor's degree, but she chose not to attend her graduation ceremony.
"College had been very hard for me and I was just glad to finish," Gopher said.
After working at several different agencies, Gopher found her way back to education and eventually served as the Seminole Tribe's director of education.
"I needed to stay in the world of education and bring that great gift to members of my tribe, especially the young people," Gopher said. "Since then, I've worked hard to not only awaken the love of learning in them, but especially the love and understanding of their language, culture and customs as Seminole Indians. Today's Seminole youth are being educated in a way that preserves their heritage while enabling them to contribute to society as a whole."
Gopher closed by urging graduates to treasure their heritage, whatever it may be.
"Learn all that you can about it," Gopher said. "Pass your knowledge on to your children. We move more confidently into the future when we are grounded in the lessons of the past."
Mark A. Riley, a world-renowned nuclear physicist in Florida State's College of Arts and Sciences and the university's 2014-2015 Robert O. Lawton Distinguished Professor, delivered Friday evening's commencement address Dec. 12.
Riley started his remarks by inviting the graduates to give a loud and boisterous shout-out to their families and loved ones sitting in the seats of the Donald L. Tucker Civic Center.
"Without them, you would not be here today, and family is truly the most important thing in life," said Riley, as the graduates erupted in cheers.
Riley, whose research into nuclear-structure physics and techniques of gamma-ray spectroscopy have given him international stature, encouraged the graduates to be persistent in life by recounting his own early struggles at the University of Liverpool in the 1980s.
"I hated it. I really did," said Riley, who was frustrated by a tough initial semester and with having to study for finals over the Christmas break.
But with a healthy dose of encouragement from his mother to stick with his studies, he went on to earn a doctorate in nuclear physics in 1985.
"My mother sat me down and taught me one of life's great lessons, which she had learned from her mother, who had lived through the second World War — 'True satisfaction only comes when you have been challenged and you overcome that challenge,'" he said.
In closing, Riley encouraged the graduates to carry their Seminole spirit proudly forward, be persistent, always keep calm and carry on, never give up, put quality and passion into all they do and never forget to let the people in their lives know how much they are appreciated and loved.
"Enjoy and cherish your family, care about mother Earth, remain and be eternally curious, and in the immortal words of Monty Python, 'Always look on the bright side of life,'" Riley said.
Minutes before the Friday evening ceremony began, Rachel Salzer, 21, a public relations major graduating from the College of Communication and Information, said she was excited to have reached the milestone of earning her degree.
"My biggest challenge was juggling school and having two jobs," said Salzer, who worked at the Zimmerman Agency and Outback Steakhouse.
Salzer was supported at the ceremony by her parents and brother, who drove up from Tampa, Fla., and her boyfriend.
Another graduate, Raymond Calderon, 21, a film production major in the College of Motion Picture Arts, was pleased to have had the opportunity to spend his two-and-a-half years at Florida State with a tight-knit group of 30 classmates.
"I feel privileged and lucky," he said. "Working on our films together, there were days that were really hard. We would work 13- or 14-hour days, five days in a row. But everyone was always supportive of each other. That support and compassion was one of the best parts of coming to Florida State University."
Calderon was supported at commencement by his parents, two brothers, a long-time family friend, both sets of grandparents, some aunts and a cousin — who traveled from as far as Virginia and Puerto Rico.