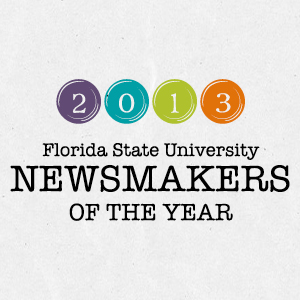 University Communications and the Office of the Provost hosted the second annual Newsmakers of the Year event, a celebration of Florida State University faculty members whose expertise and research raised the university's profile in 2013, on Jan. 28 at the Augustus B. Turnbull III Florida State Conference Center.
The evening's reception featured a montage of video clips of faculty discussing their headline-making research.
President Eric J. Barron and Provost and Executive Vice President for Academic Affairs Garnett S. Stokes both made remarks to the dozens of attendees.
Barron thanked the faculty for taking time from their busy schedules to work with university communicators. It is important to call attention to the good news coming out of Florida State, he said.
"Positive stories that attract wide exposure for our excellent programs and faculty, staff and students play a critical role by making sure people understand what a high-quality education we provide."
The list of professors who received publicity last year is lengthy, Stokes said.
"They understand that media coverage is a strategic resource in raising awareness of, and appreciation for, a world-class research and creative university," Stokes said of those faculty members who partnered with communicators.
"Without a doubt each interview elevated the academic profile of the institution," she said.