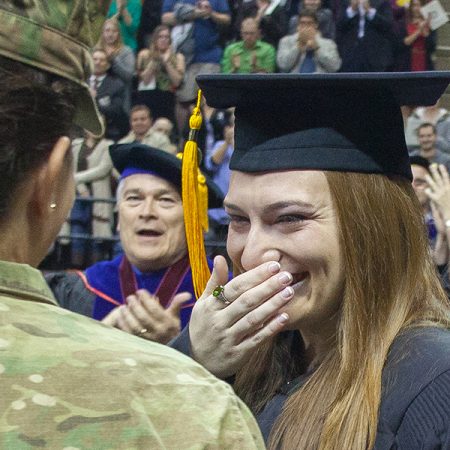 Friday night's Fall Commencement exercises at Florida State University began with an emotionally joyous reunion between two sisters — a U.S. Naval officer and a Florida State graduating senior.
Lt. Heather Golightly, 30, who had returned to the States only days ago from a nine-month deployment in Kandahar, Afghanistan, successfully completed a "secret" mission to surprise her sister, Elizabeth Golightly, 23, during graduation. Heather had led Elizabeth to believe that she would not be returning home until February.
To get Elizabeth onto the platform during the ceremony so the reunion would take place at center stage, Florida State administrators told her that she had been picked at random to lead the Pledge of Allegiance. Just before the pledge, Florida State President Eric J. Barron stood to introduce Heather to the crowd as she was escorted onto the platform right behind Elizabeth.
When Elizabeth spun around and saw her sister, the two embraced and wept as the audience gave the reunion a standing ovation.
Heather dreamed up the idea to surprise her sister months ago.
"I knew I had to finish my mission early so that I could do this," she said. "My command was not only enthusiastic about the opportunity, but extremely accommodating, despite the circumstances. My commanding officer, Capt. Barth Merrill, gave me permission to do this and I can't thank him enough."
Later in the ceremony, Heather escorted Elizabeth across the stage as Elizabeth received a bachelor's degree in social sciences. Heather received a bachelor's degree in geography from Florida State in 2005.
Graduation speaker Shridhar Sathe, a world-renowned food scientist in Florida State's College of Human Sciences who is the 2013-2014 Robert O. Lawton Distinguished Professor — the university's highest faculty honor — reminded the graduates that attitude is the most critical part of problem-solving ability in life.
"Humility is the first step in learning," Sathe said. "The question that follows learning is, 'What to do with it?' You have to find a question you can answer."
Sathe offered the graduates a number of "rules to live by," such as to say please often, pack a lot of patience, pay attention, always be prepared, be pragmatic, be professional, don't make promises that cannot be kept, and always keep their families as the priority.
Student Body President and University Trustee Rosalia "Rosie" Contreras reminded the graduates that life's path is rarely easy, but the reward of perseverance is sweet.
"Today marks a radical shift in your life," she said. "If there is one thing I hope you'll remember about tonight, it is the feeling you feel when you walk across this stage to receive your degree. Go lead, go inspire, go achieve and, as always, 'Go 'Noles!'"
The university gave an Honorary Doctor of Humane Letters to alumna Margaret "Maggie" Strum Allesee. Provost and Executive Vice President for Academic Affairs Garnett S. Stokes read the citation, which recognized Allesee's lifetime of support to her alma mater.
Allesee made a gift to Florida State in 2004 to endow the Maggie Allesee National Center for Choreography, the only center of its kind at a major research university. A 1949 graduate in English, journalism and education, Allesee was the university's first head cheerleader and its first women to earn a varsity letter.
Prior to the ceremony, several graduates expressed their excitement to have reached this milestone in life.
Brent Ahern, 22, of Tarpon Springs, Fla, who received a bachelor's degree in criminology, called the moment bittersweet as he reflected on his years at Florida State.
"It's just been a great ride," said Ahern, who was supported at the ceremony by his mother, father, brother, girlfriend and her brother. "It's had its ups and downs, but the pros outweigh the cons. Florida State is a great school to attend. I couldn't be prouder to be a Seminole."
Stephanie Burns, 23, Lake Mary, Fla., who received a bachelor's degree in psychology, was pleased to have finished her undergraduate degree and was looking forward to starting graduate school to become an occupational therapist. She praised her time studying abroad at Florida State's London Study Centre, as well as Florida State psychology Professor Richard Wagner's instruction.
"He is an amazing professor here," Burns said. "He encouraged all of his students in research and in learning more about cross-cultural learning from London to the United States. It was amazing to get to see those differences. He was incredible in teaching us how they are taught a little bit different than us when it comes to disorders and diseases. It was a cool experience to have him there to help us with that."
Kyle Bacchus, 24, of Naples, Fla., who received a bachelor's degree in applied economics, graduated from high school in 2007. After spending six and a half years as a student at Florida State, he said he was extremely excited to be graduating.
"My whole family is here, excited for me, too," Bacchus said. "I've got two parents and three younger siblings here, and my biological father, older sister and older brother watching on the Internet."
One of his younger siblings, Alexander Hoffman, is a freshman at Florida State.
"It was definitely a maturing process for me," Bacchus said. "FSU definitely made me a better man and ready for the world."