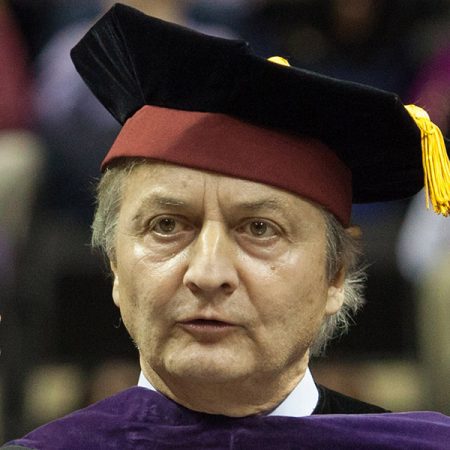 Commencement speakers often tell new graduates some variation of "when you see a door of opportunity, charge through it."
There's just one problem: Those doors of opportunity don't have neon signs on them, said Bob Rice, a Florida State University alumnus and a leading voice in the investment world who spoke Saturday, Dec. 14, at the university's second of two fall commencement ceremonies.
"If they did, there would be a line around the block," Rice said. "The thing that makes a door of opportunity a real door of opportunity is precisely that other people do not recognize it as such."
The key to recognizing such opportunities, he explained, is to find ways to connect multiple circles of knowledge, overlapping them to make new discoveries.
He invoked the image of a Venn diagram.
"The idea is not to take a yellow circle and make it yellower and a blue circle and make it bluer," he said. "The idea is to be the person who can be at the intersection of the Venn diagram who can create this new color — green. That's where the real value gets created in the world."
Friday night's commencement began with an emotionally joyous reunion between two sisters — a U.S. Naval officer and a Florida State graduating senior.
Lt. Heather Golightly, 30, who had returned to the States only days ago from a nine-month deployment in Kandahar, Afghanistan, successfully completed a "secret" mission to surprise her sister, Elizabeth Golightly, 23, during graduation. Heather had led Elizabeth to believe that she would not be returning home until February.
Elizabeth, who had been told she had been picked at random to lead the Pledge of Allegiance, was on stage when President Eric J. Barron introduced Heather to the crowd as she was escorted onto the platform. When Elizabeth spun around and saw her sister, the two embraced and wept as the audience gave the reunion a standing ovation.
Heather dreamed up the idea to surprise her sister months ago.
"I knew I had to finish my mission early so that I could do this," she said. "My command was not only enthusiastic about the opportunity, but extremely accommodating, despite the circumstances. My commanding officer, Capt. Barth Merrill, gave me permission to do this and I can't thank him enough."
Later in the ceremony, Heather, who graduated from FSU in 2005 with a degree in geography, escorted Elizabeth across the stage as she received a bachelor's degree in social sciences.
Friday's speaker Shridhar Sathe, a world-renowned food scientist in Florida State's College of Human Sciences who is the 2013-2014 Robert O. Lawton Distinguished Professor — the university's highest faculty honor — reminded the graduates that attitude is the most critical part of problem-solving ability in life.
"Humility is the first step in learning," Sathe said. "The question that follows learning is, 'What to do with it?' You have to find a question you can answer."
Sathe offered the graduates a number of "rules to live by," such as to say please often, pack a lot of patience, pay attention, always be prepared, be pragmatic, be professional, don't make promises that cannot be kept and always keep their families as the priority.
Also at the ceremony, an Honorary Doctor of Humane Letters was awarded to alumna Margaret "Maggie" Strum Allesee. Provost and Executive Vice President for Academic Affairs Garnett S. Stokes read the citation, which recognized Allesee's lifetime of support to her alma mater.
Allesee made a gift to Florida State in 2004 to endow the Maggie Allesee National Center for Choreography, the only center of its kind at a major research university. A 1949 graduate in English, journalism and education, Allesee was the university's first head cheerleader and its first woman to earn a varsity letter. The FSU Honorary Degree Committee, an advisory committee appointed by the president to represent the university community, considers nominations for honorary degrees.
Student Body President Rosalia "Rosie" Contreras opened both Friday and Saturday ceremonies with a message that life's path is rarely easy, but the reward of perseverance is sweet. And she ended with this: "Go out, go achieve, go inspire, go lead and always, 'Go 'Noles!' "
Several graduates expressed their excitement to have reached this milestone in life. About 1,700 of the more than 2,700 graduating students participated in the two ceremonies.
Brent Ahern, 22, of Tarpon Springs, Fla., who received a bachelor's degree in criminology, called the moment bittersweet as he reflected on his years at Florida State.
"It's just been a great ride," said Ahern, who was supported at the ceremony by his mother, father, brother, girlfriend and her brother. "Florida State is a great school to attend. I couldn't be prouder to be a Seminole."
Kyle Bacchus, 24, of Naples, Fla., who received a bachelor's degree in applied economics, said he was excited about participating in the graduation ceremony.
"My whole family is here and excited for me, too," Bacchus said. "I've got two parents and three younger siblings here, and my biological father, older sister and older brother watching on the Internet."
One of his younger siblings, Alexander Hoffman, is a freshman at Florida State.
"It was definitely a maturing process for me," Bacchus said. "FSU definitely made me a better man and ready for the world."