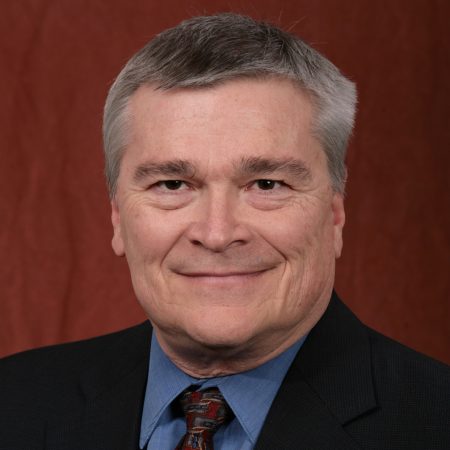 During his annual State of the University Address Nov. 7, President Eric J. Barron put into perspective the groundwork laid over the past three years as integral to Florida State University's next steps toward greater success.
"We've been laying track with big ideas," Barron said to faculty and administrators assembled in Ruby Diamond Concert Hall. "Now we're emerging from the recession leaner, hungrier and ready to rumble — not in the sense of a street fight, but the deep, resonant sound of something powerful and on the move."
Florida State's focus on academic excellence is not only intended to move higher in national rankings, but more importantly to foster greater student career success.
In the past two years, Florida State has added 100 new faculty members, with more to come as a result of increased "pre-eminence" funding from the state, according to Barron. In the next five years, Florida State is set to receive an additional $15 million per year, which the university intends to use for targeted purposes geared to move the university into the nation's top 25 public universities. A major target is decreasing the student/faculty ratio.
"We are No. 70 among publics with a 26-to-1 student/faculty ratio," Barron said. "We would have to add 620 faculty members to reach the ratio of the No. 25 university."
Barron touched on the importance of engagement, giving high marks to the university's promotion of engagement in several areas, including opportunities for honors students and student-veterans.
"A college education is like a buying a sports car," he said. "If you buy one, you don't want to drive it 20 miles per hour. If you attend Florida State, you want to make the most of every opportunity. You want to engage in research, international study, service, leadership and internship."
Barron pointed out that involved students report being happier and they have higher GPAs and a better peer group.
In answer to the Florida Legislature's and governor's calls for a greater focus on STEM (science, technology, engineering and mathematics) and to essentially produce recession-proof students, Florida State is focusing dollars on student scholarships to attract the top 10 percent of high school students and more STEM-ready students.
"We will, however, continue asking 'Where is student demand' in order to promote excellence in every single area," he said.
Barron reported that Florida State is No. 17 in retention and No. 28 in graduation rates. What's more, the university has an 87.5 percent graduation rate among its student-veterans, as compared to 60 percent nationally.
The ranking, which demonstrates the university's commitment to student-veterans, is worthy of a "national standing ovation," according to Barron.
"Our successes are moving through the university like a wave," he said. "They will positively affect our graduation rates, which I expect to increase by a percentage point next year."
Barron also reviewed seven strategies to position Florida State as a state and national leader in job creation and student career-readiness. The seven strategies are:
•Creating a culture of entrepreneurship, including making it easier for entrepreneurs to do business on campus.
•Promoting patents, licensing and startups.
•Investing in innovation, including a focus on areas with the greatest potential for long-term demand: materials, energy, successful aging and coastal marine sciences.
•Participating in regional and statewide economic development, such as helping to transform Tallahassee's economy through a convention hotel near the Donald L. Tucker Civic Center, College Town and the so-called Madison Mile.
•Strengthening the ties between Florida State, Florida A&M University and Tallahassee Community College to provide an appropriate workforce to local employers.
•Embedding career success into the curriculum by offering more experiential learning.
•Advancing career readiness through The Career Center.
During his address, Barron praised the most outstanding members of the university's faculty — those who have received fellowships and honors such as Guggenheim and Fulbright awards.
"You bring prestige to this university and, because of that, more money is coming our way from the state," Barron said.