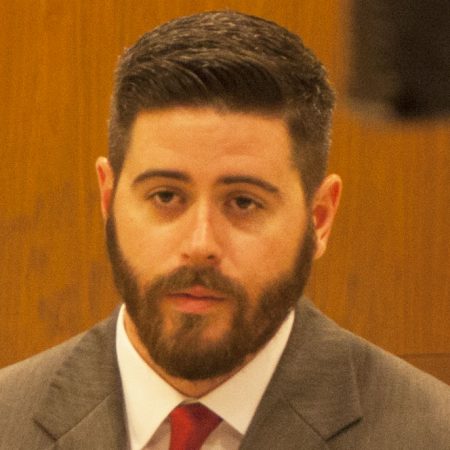 Florida State University Student Body President Rosie Contreras and student-veteran Andrew Sloan voiced their support at the Florida Capitol on Sept. 23 for legislative bills that would ensure in-state tuition to veterans attending Florida's public universities, including Florida State.
Sloan incurred $10,500 in debt from loans he took out to pay his out-of-state tuition — a cost he thought was covered at public universities under the GI Bill. But the post-9/11 GI Bill covers only in-state rates.
"There's nothing worse than coming home and learning that after a life of giving everything and asking for nothing, a simple promise wasn't kept," said Sloan, who served as a staff sergeant in the U.S. Air Force for six years before enrolling at FSU in 2011. "As dark as that sounds, I still see a perfect opportunity for the state of Florida to reach out to veterans… helping some of the greatest warriors our country has ever seen and the greatest students that could be seen."
Holding true to his administration's accomplishment of making Florida State the most veteran-friendly university in the nation, President Eric J. Barron joined student leaders in urging for legislative approval for Senate Bill 84 and House Bill 35.
"I believe very strongly that public education is all about accessibility and ensuring that our students graduate and get a good job," Barron said. "I am personally committed to knocking down any barrier that stands in the way of supporting our veterans' quest for a higher education. Out-of-state tuition is certainly one of those barriers of accessibility."
If the bills pass, Florida will join 17 other states that have already guaranteed in-state tuition to student-veterans even if they have not established state residency.
Though the measure passed the House last year and failed in the Senate, Rep. Kathleen Peters is confident that it will proceed this year. The Senate Bill is expected to have its first committee meeting on the measure Tuesday, Sept. 24.
"These veterans put their career on hold for our safety and our freedom, so I don't believe that we should put their tuition, or their ability to go to school, on hold," Peters said. "I don't believe this is a big enough fiscal impact on our universities that we should even consider that as a barrier. They served our country, and it's time we serve them."