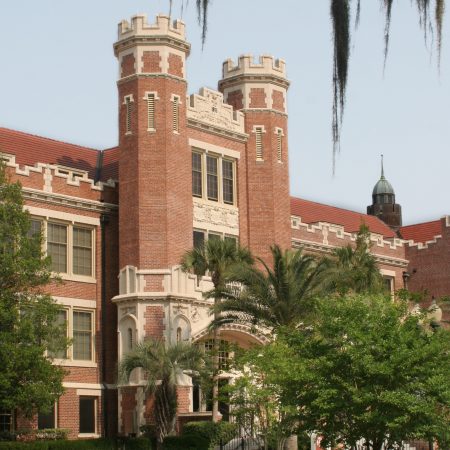 Florida State University continues to move up in national rankings with U.S. News & World Report ranking FSU 40th among all public "national" universities in its 2014 edition of "America's Best Colleges." Florida State has moved from No. 46 to No. 40 — a six-point jump — in just the past two years. Florida State's ranking has increased every year since 2010. Last year, the university was ranked No. 42 nationally among public universities.
Among all national universities, including private universities, Florida State ranked 91st, which is up from 97th last year. The national universities category consists of 281 institutions (173 public, 101 private and seven for-profit) that offer a wide range of undergraduate majors as well as master's and doctoral degrees.
"Florida State University strives for academic excellence in a student-centered environment, and that is reflected in the upward movement in theU.S. News & World Reportrankings," said President Eric J. Barron. "Our goal is to invest in academic excellence and student success. We expect this investment will be reflected in national rankings, where our goal is to be among the Top 25 public universities."
U.S. News & World Reportalso lauded Florida State in a category called "A+ Schools for B Students." Although the average freshman enrolled in FSU last fall had a high school grade point average of 4.0 — well above a "B" average — FSU Provost and Executive Vice President for Academic Affairs Garnett S. Stokes said FSU's listing in this category is reflective of the university's commitment to the academic success of its students.
Florida State's graduation rate performance improved this year. With a 75 percent graduation rate, Florida State far exceeded a prediction byU.S. Newsthat FSU's graduation rate for its 2006 cohort would be 64 percent.U.S. Newsbased its prediction on a formula that incorporated various factors that may affect graduation, including high school class standing, standardized test scores, financial expenditures, percentage of students receiving Pell Grants and whether the institution is public or private.