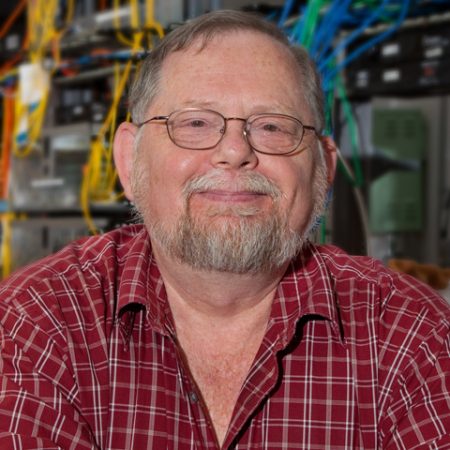 Over his 39-year career at Florida State University, Ken Hays has lived through a technological sea change, from the use of punch cards and the first personal computers to the campus network, the Internet and supercomputers.
"Since we first connected the campus network in the late '80s, the changes in networking have been continual in speed and quantity of systems," said Hays, who started working at the university as a student in 1969, began as a full-time employee in 1973 and is, today, a network architect with Information Technology Services.
Through it all, Hays has played an instrumental part in every large computing project undertaken by the university, gaining a reputation as a problem solver who always has the best interests of his colleagues at heart. For these reasons, Hays has been named this year's recipient of the Max Carraway Employee of the Year Award.
"I am totally amazed that I was chosen for this award," Hays said. "I am grateful that folks thought enough of my efforts to make this nomination."
Such efforts include the successful launch of the university's enterprise resource planning project in the early 2000s. Known today as OMNI, Hays helped to analyze what the project's technical needs would be and how the campus network's infrastructure would support those needs.
"Ken was the 'fixer,'" said a group of his nominating ITS colleagues: Mark Anthony, Marion Bogdanov, Melanie McCall, Justin Nelson, Yu Wang and Rick Zeisler. "He willingly helped and provided the expertise to get the project under way. He spent long days and nights ensuring the ERP project would be able to go live."
In their letter, the group further praised Hays' uncanny aptitude to fix problems that stump others for days or months.
Donald Pace, director of Network and Communications Technology with ITS, described Hays as "extremely passionate" about his work, and eager to share his skills with others.
"One of Ken's best qualities is his desire to impart knowledge," Pace said. "Even though he is not a faculty member, he is an educator.
"When asked about Ken, I always get a picture in my mind of him sitting shoulder to shoulder with a student, faculty or staff member, with pen and paper, explaining some detail of network technology," Pace said. "This has occurred hundreds if not thousands of times over the past 39 years."
Hays calls such opportunities to tutor others as one of the most satisfying parts of his job.
Hays calls such opportunities to tutor others as one of the most satisfying parts of his job.