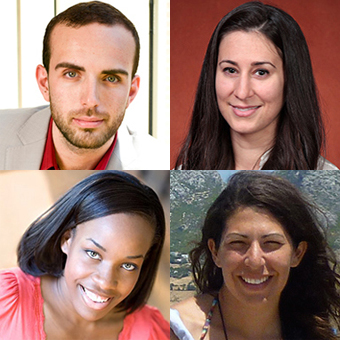 Ten distinguished students from Florida State University will travel the world for the 2013-2014 academic year after earning prestigious grants from the Fulbright U.S. Student Program.
Reaching five continents, the students will teach English, study at foreign academic institutions or conduct research on topics ranging from the transformative effects of the Dominican Republic's 1965 crisis in Santa Domingo to an ethnographic study of overweight and obese people in Rabat, Morocco.
"Having 10 Fulbright recipients this year demonstrates the exceptional preparation our students receive at Florida State University," said Craig Filar, the director of the Office of National Fellowships at Florida State. "The students will not only be ambassadors of the United States, but also outstanding and dynamic representatives of our university."
Since the inception of the Fulbright Program in 1946, FSU has produced more than 60 Fulbright students. The Fulbright U.S. Student Program offers grants for U.S. graduating college seniors, graduate students, young professionals and artists to study abroad.
"I could not be prouder or more excited for each of them and for the continued level of recognition they bring to the university," Filar said.
Four students received Fulbright Study/Research Grants to support their international endeavors:
Jake Gibbons — A recent graduate with abachelor's degree in editing, writing and media, Gibbons, from Middleburg, Fla., will travel to the Netherlands. He will attend Leiden University to write his master's thesis on Anglo-Dutch cultural interaction as it pertains to changes in the physical forms of books in the 15th century. He hopes to better understand the complex relationship between form, content and society.
Brenda Peynado — From Lutz, Fla., Peynado completed her master's degree in creative writing in summer 2012. She will compose a historical novel based on the sociocultural impact of the 1965 crisis in Santo Domingo. Peynado aims to illuminate the transformative nature of the crisis, exploring the complex identity of the Dominican Republic through extensive interviews and archival research.
Alicia Richardson — From Lake Worth, Fla., Richardson will pursue her Master of Fine Arts of acting at York University in Ontario. Through her work she will explore the language of race relations within marginalized groups as she composes a culminating summer solo performance. She earned a bachelor's degree in theater from Florida State.
Natalia Toledo — From Denver, Toledo earned dual bachelor's degrees in biological science and literature. She will investigate the relationship between cultural choices and health in urban regions as she conducts her research of overweight and obese individuals in Rabat, Morocco.
Six students were awarded Fulbright English Teaching Assistantships, where they will be placed in a classroom abroad to provide assistance to teachers who are teaching English to non-English speakers while serving as cultural ambassadors for U.S. culture:
Taylor Adams –– Recently graduating with dual bachelor's degrees in economics and psychology, Adams, from Riviera Beach, Fla., will teach English in Taiwan.
Esther Milanzi –– From New York City, Milanzi received a master's degree in sociocultural and international development education studies from Florida State in fall 2011. She will teach English in South Africa.
Caitlin Strawder –– Having recently earned dual bachelor's degrees in political science and social science, Strawder will teach English in Colombia. She is from Deltona, Fla.
Randy Tarnowski –– As a master's in religion candidate from Crystal River, Fla., Tarnowski will teach English in South Korea.
Daniel Taylor –– Originally from Patch Barracks, Germany, Taylor will teach English in Russia. He will graduate this summer with dual bachelor's degrees in international affairs with a concentration in German, and Russian with a concentration in business.
Rachel Van Middlesworth –– From Lakeland, Fla., Van Middlesworth recently graduated with a bachelor's in literature and will teach English in Cyprus.
The Fulbright Program is the flagship international educational exchange program sponsored by the U.S. government and is designed to increase mutual understanding between the people of the United States and the people of other countries. The primary source of funding for the Fulbright Program is an annual appropriation made by the U.S. Congress to the U.S. Department of State, Bureau of Educational and Cultural Affairs. The program operates in more than 155 countries worldwide.