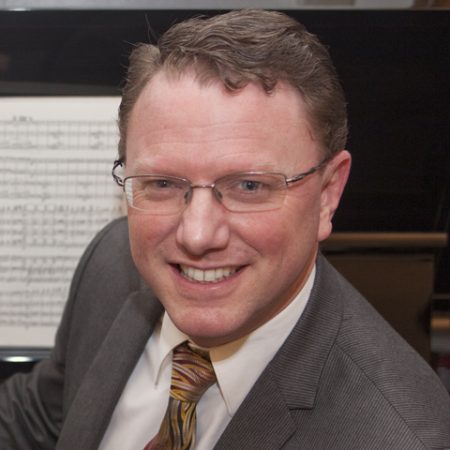 With a focus on giving his students hands-on experiences coupled with constructive feedback, music theorist Matthew R. Shaftel sees himself as something of a coach, taking his students through an apprenticeship in musical structure.
"At every stage, my job is to coach students in discovery and critical thinking, and then fade into the background as active learning takes over," he said.
Shaftel, an associate professor in the College of Music, received the 2013 University Distinguished Teacher Award during the annual Faculty Awards Ceremony April 24. The award includes a $7,500 stipend.
"Matthew Shaftel is a remarkable faculty member in all regards, and I am delighted that his work in the classroom has been recognized with this year's University Distinguished Teaching Award," said Don Gibson, dean of the College of Music. "His ability to address the individual needs of his students while presenting abstract concepts in a musically relevant fashion is inspiring."
And then there is the Theory Beast, Shaftel's alter ego that never spares the proverbial rod, lest the pupil be spoiled. In addition to warning Shaftel's students about unannounced pop quizzes and reminding them to bring their musical instruments to class, the Theory Beast is known to break into his office to complete "error detection" exercises for his students, sometimes even sinking his teeth into their assignments.
"Ultimately, I don't mind his intrusion," Shaftel said. "After the Theory Beast strikes, I encourage my students to try the assignment again or as many times as necessary. Students not only retain information better when it is acquired through gently guided experience, but they are also able to see the relevance and potential transfer of the information to their individualized pursuits."
Such student-centered approaches, according to Shaftel, lead to a pursuit lifelong learning, which ought to be the goal of higher education.
In addition to teaching undergraduate and graduate courses, Shaftel has served as director of Florida State's Music Living-Learning Center in Cawthon Hall since 2010.
"I enjoy weekly advising, mentoring, tutoring and meals with the 170 talented students who live there," he said.
In addition, Shaftel is serving as the chair of the university's Liberal Studies for the 21st Century Task Force. Composed of 15 faculty members, the group is charged with overseeing a state-mandated change in the curriculum and seeks to ensure that Florida State students develop the critical and creative thinking skills that will enable them to thrive both intellectually and materially upon graduation.
Beyond his regular teaching and administrative duties, Shaftel serves as president of the Tallahassee Youth Orchestras, director of music at Good Shepherd Church, and teaches music classes to local retirees through the Osher Lifelong Learning Institute at Florida State.
In service to the music theory community, Shaftel currently serves as president of Music Theory Southeast. In addition, he serves on the editorial board and publications committee of the College Music Society, where he recently rotated off the board of directors. He recently completed four years as editor of MTO, a journal of the Society for Music Theory.
Shaftel earned a doctorate in music theory in 2000, a master's degree in music theory in 1997 and a bachelor's degree in music and education in 1995 — all from Yale University. He joined the Florida State faculty in 2001.
Other outstanding Florida State faculty members were recognized in the following categories during the Faculty Awards Ceremony:
DISTINGUISHED RESEARCH PROFESSOR AWARDS
The title of Distinguished Research Professor is the third highest faculty award at Florida State, following the Robert O. Lawton and Daisy Parker Flory awards. A select panel of current Distinguished Research Professors vets the nominations, submitted by faculty peers, for presentation to the university president. Each recipient will receive a one-time award of $10,000, along with a framed certificate.
This year's Distinguished Research Professors are: Rufina Alamo (Chemical and Biomedical Engineering), Brad Schmidt(Psychology) and David Whalley (Computer Science).
DISTINGUISHED UNIVERSITY SCHOLARS
This award is designed to recognize outstanding performance by Florida State employees who are non-tenured or non-tenure-seeking, have longstanding track records of research and/or creative activity at the university, and occupy more senior levels in their respective positions. Examples of such positions include the titles of curator, scholar/scientist or research associate. This year's recipients will receive one-time awards of $10,000 and framed certificates.
The Distinguished University Scholars are: Peter Lee (National High Magnetic Field Laboratory) and Dragana Popovic (National High Magnetic Field Laboratory).
DEVELOPING SCHOLAR AWARDS
Developing Scholars are mid-career associate professors who have been singled out by their peers for recognition. Each receives a $10,000 award to be used in their research program, following specific guidelines, along with a framed certificate.
The Developing Scholars are: Meegan Hanson (English), Susan Latturner (Chemistry and Biochemistry), William Oates (Mechanical Engineering) and Wei Yang (Chemistry and Biochemistry).
GRADUATE FACULTY MENTOR AWARDS
The Graduate Faculty Mentor Award honors faculty mentors whose dedication to graduate students and mentoring have made a significant contribution to the quality of life and professional development of graduate students. The honor comes with $3,000.
The honorees are: Vanessa Dennen (Educational Psychology and Learning Systems), Debra Fadool (Biological Science), Robert Hart (Earth, Ocean and Atmospheric Sciences), Geoffrey Strouse (Chemistry and Biochemistry) and Zuoxin Wang (Psychology).
UNDERGRADUATE ADVISING AWARDS
Undergraduate Advising Award recipients are nominated by students who have benefitted from their services. These individuals dedicate their time to ensuring that students receive the best possible advice related to their courses and their career choices. Recipients also receive $2,000.
The honorees are: Will Leparulo (FAMU-FSU College of Engineering) and Fabian Tata (Center for Academic Retention and Enhancement, Undergraduate Studies).
HONORS THESIS MENTOR AWARDS
The Honors Thesis Mentor Award was established to recognize and honor faculty members whose direction and advisement of honors thesis research or creative activity has significantly contributed to the enhancement and quality of education of undergraduate students at The Florida State University. Faculty members are nominated by students in the Honors in the Major program for this award. It comes with a $2,000 stipend.
The honorees are: Wu-MinDeng (Biological Science) and Jon Maner (Psychology).
UNDERGRADUATE TEACHING AWARDS
The Undergraduate Teaching Award recognizes faculty members for excellence in undergraduate teaching. Recipients must be outstanding in the many aspects of teaching that contribute to successful teaching and learning. This is a student-oriented award with nominations submitted by students and alumni. Each recipient also receives a $2,000 award.
The honorees are: Jennifer Atkins (School of Dance), Eric Coleman (Political Science), Nancy de Grummond (Classics), James Dever (Management), Roberto Fernandez (Modern Languages and Linguistics), Adam Gaiser (Religion), Michele Garber (Nutrition, Food and Exercise Sciences), Eric Klassen (Mathematics), Feng Lan (Modern Languages and Linguistics), Dennis Moore (English), Richard Morris (School of Communication Science and Disorders), William Parker (Earth, Ocean and Atmospheric Sciences), Amy Polick (Psychology, Panama City Campus), Nancy Rogers (Music), Jonathan Sheppard (History), Katie Showman (Economics), Phyllis Underwood (School of Teacher Education), Jeanne Wanzek (School of Teacher Education/Florida Center for Reading Research), Thomas Welsh (School of Dance) and James Wooland (Mathematics).
GRADUATE TEACHING AWARDS
The Graduate Teaching Award recognizes faculty for excellence in graduate teaching. Recipients must make outstanding contributions to successful teaching and learning. This is a student-oriented award with nominations submitted by students and alumni. Each recipient also receives a $2,000 award.
The honorees are: Michael Buchler (Music), Laurel Fulkerson (Classics), Young-Suk Kim (School of Teacher Education/Florida Center for Reading Research), David Landau (Law) and Alfred Mele (Philosophy).
UNDERGRADUATE RESEARCH MENTOR AWARDS
Having a strongundergraduateresearchculture helps Florida State recruitand retain the brightest students, and helps improve its rankings by enhancing thereputationof its undergraduate programs.
To those ends, the new Undergraduate Research Mentor Awards recognize faculty commitment to undergraduate research. Students nominated the winners, who demonstrated a deep and long-term involvement in undergraduateresearch, including multiple papers and presentations co-authoredwithundergraduates.One award is reserved for a faculty member who participates in the Undergraduate Research Opportunity Program (UROP). Recipients receive a $2,000 award funded by the FSU Student Foundation.
"We are extremely grateful to the FSU Student Foundation for sponsoring this award to celebrate the outstanding research-mentoring occurring on our campus," said Joe O'Shea, director of the Office of Undergraduate Research. "Despite so many demands on faculty members, they still take the time to involve undergraduates through research. We hope this recognition rewards faculty members for their dedication and encourages others to invest in undergraduate research."
The inaugural honorees are: Igor Alabugin (Chemistry and Biochemistry), who participated in the Undergraduate Research Opportunity Program (UROP), and Ashby Plant (Psychology).