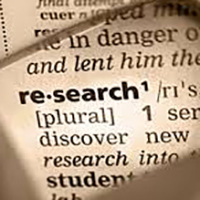 This year's Research Recognition Dinner at Florida State helped shine a spotlight on the university's amazing faculty who spend countless hours working to expand our knowledge of the world around us and discover new ways to improve people's lives.
Hosted jointly by Florida State's Office of Research and the Council on Research and Creativity, the annual spring event brought together hundreds of researchers and administrators, all eager to network with one another, learn about the different research in which their peers are engaged, and hear from the Office of Research's new vice president, Gary K. Ostrander.
"Florida State's faculty researchers are constantly at work trying to make a difference in our world, and it is important to step back for a minute and recognize them for their contributions," Ostrander said. "Without their efforts, FSU could not have achieved the success it has, and I am truly honored to be a part of this wonderful and collaborative research community."
The event also featured a captivating presentation by eco-artist and photographer Chris Jordan, who shared samples of his work with attendees to help raise awareness of the vast amounts of waste humanity produces. Whether it is the two million plastic beverage bottles used in the U.S. every five minutes, or the one million plastic cups used on airline flights every six hours, Chris' imagery helped emphasize the point that new approaches and new ways of thinking are needed if we are to preserve our planet for future generations.
"While Chris brought us a message of awareness, he also reaffirmed just how important our researchers are to working through and solving these types of large-scale issues," Ostrander said.