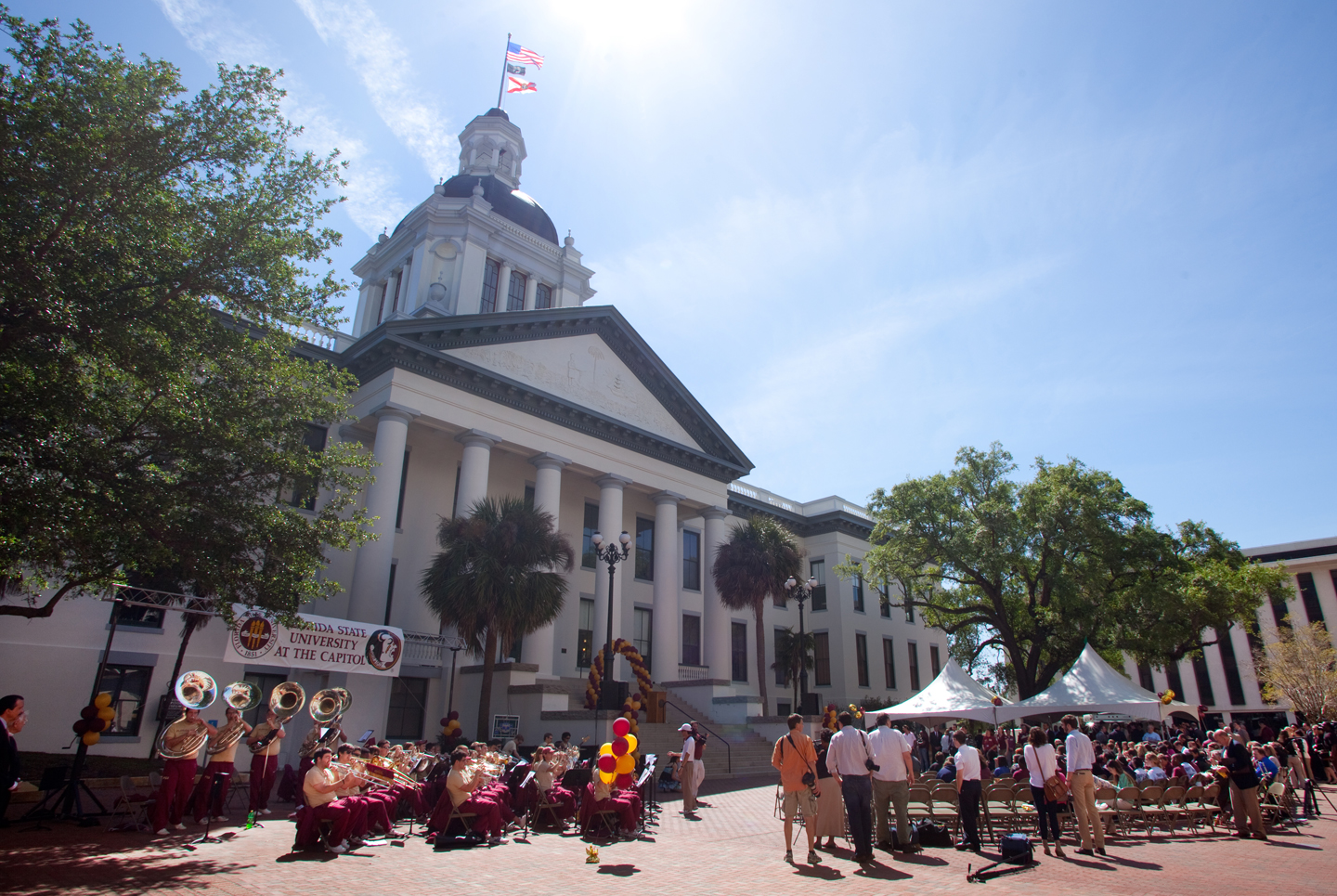 Hundreds of Florida State University supporters, including dozens of elected officials from around the state, turned out to celebrate this year's annual FSU Day at the Capitol on a picture perfect early spring day.
Florida State's Chiefly Brass, cheerleaders and Flying High Circus performers entertained the audience throughout the noontime assembly held on the patio between the old and new state capitol buildings.
"It's great to see so many Seminole supporters here today," said President Eric J. Barron, as elementary school students joined FSU students, faculty and staff for the occasion.
Dozens of Florida state senators and representatives, many of whom comprise the Seminole Legislative Caucus, were called up one-by-one to the dais to be recognized. Among them was Rep. Alan Williams, the House Democratic whip, who expressed his support for the university.
"It is imperative that we continue to adequately fund the state university system, including Florida State," Williams said. "State taxpayers receive a tremendous return on their investment through the graduates who most often stay in the state for their careers and for research our universities conduct that generates consumer products for all of us."
FSU's star student-athletes were also recognized by name at the event, including track and field, basketball and baseball players.
Garnet and gold dominated the plaza between the two buildings, as well as inside the Capitol where the colorful banners of the university's colleges, research centers and institutes were on display.
"I want to thank the governor who has begun this legislative session by making sure the state colleges and universities compete equitably for resources," Barron said.
During interviews with news media representatives covering the event, Barron identified the legislative priorities for the university as pre-eminence, restoring state funding for state colleges and universities that was removed from last year's budget and establishing an alternative base funding mechanism to support maintenance and construction.
Topping off the formal activities associated with FSU Day at the Capitol was a picnic-style lunch served under a tent set up on the plaza, where FSU supporters in the Legislature and others continued to enjoy the warm summer temperatures in an atmosphere of collegiality and shared support for an institution located just blocks from where they were standing.