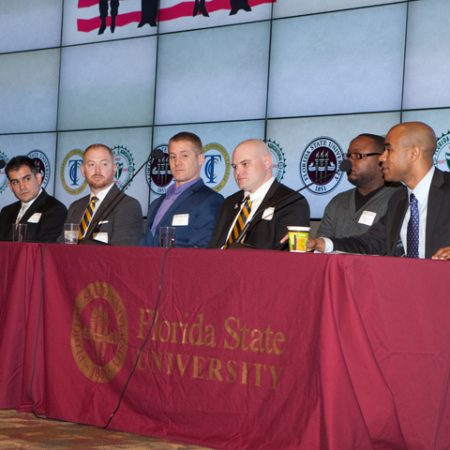 Student-veterans from Florida State University, Florida A&M University and Tallahassee Community College, along with faculty, staff and administrators, gathered at the Augustus B. Turnbull III Florida State Conference Center on March 22 for dialogue, strategy development, an exhibitor showcase and a panel discussion during the inaugural Capital City Veterans Consortium.
The consortium was likely the first veteran-support event in the nation to include three institutions of higher learning from within a single city. Representatives from national, state and local veteran-support organizations also participated.
"We hope this very productive and informative collaboration can serve as a model for colleges across the country that are willing to work together in support of veterans," said Billy Francis, director of Florida State's Student Veterans Center.
In addition to raising awareness of the challenges faced by student-veterans, participants also identified actions each institution could take to become more veteran-friendly. Suggestions included implementing various methods to increase student-veterans' retention and graduation rates, disseminating recruitment messages that resonate with exiting military personnel, and sharing and reporting student-veteran success-rate data.
"Each institution's commitment to collaborate on these initiatives was exemplified through the participation by the presidents of all three schools," Francis said.
The consortium opened with a video message from Tallahassee Community College President Jim Murdaugh, who encouraged participants to aim for actionable outcomes. That charge was elaborated on in a welcoming address by retired U.S. Army Col. Mike Prendergast, the executive director of the Florida Department of Veterans Affairs.
Strategies were then developed during dialogue sessions on several topics and summaries were presented during the consortium luncheon. Florida A&M Interim President Larry Robinson and Florida State President Eric J. Barron also addressed luncheon attendees on the importance of pulling out all stops to provide student-veterans with the outreach and support they need to be successful in school and beyond.
"Tallahassee is uniquely positioned to assist our student-veterans as they transition to college life, obtain their degrees and succeed in their careers," Barron said.
Following the luncheon, Matthew Feger, director of development with the Student Veterans of America, moderated a panel discussion of student-veterans from the three institutions.
Later in the afternoon, an exhibitor showcase featured more than 30 veteran-support organizations and programs available in the local community, including at local colleges and universities.
The day was capped off by a formal military ball.