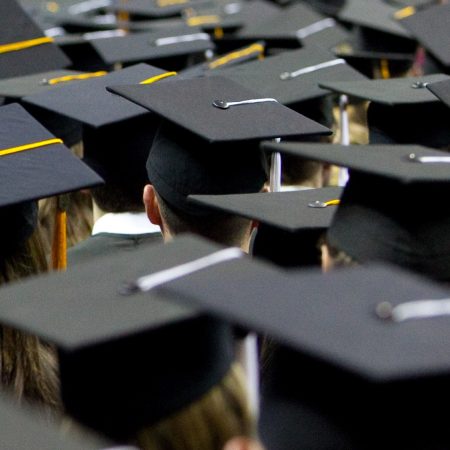 Their lives may have taken them down very different paths, but the speakers at Florida State University's two Fall Commencement ceremonies also shared much in common: Both were able to draw upon lessons learned over the course of highly successful lives to offer thoughtful advice to the graduating students seated before them.
World-renowned physical chemist Naresh S. Dalal addressed graduates at the Tallahassee-Leon County Civic Center on Friday, Dec. 14, while businesswoman and philanthropist Judith A. Dunlap was awarded an honorary degree and spoke to a second group of graduates on Saturday, Dec. 15. About 1,700 of more than 2,600 graduating students participated in the ceremonies.
In beginning her commencement address, Dunlap joked that in addition to feeling awed, humbled and honored over receiving the honorary doctorate, she also felt something else: a sense of envy toward the graduating students.
"I envy all of you because today you're starting your trip up the mountain, and I've already been to the top of the mountain and am coming down the other side," she said.
Dunlap told of coming from humble beginnings in Eau Claire, Wis. A high-school summer job at a movie theater provided her with basic business skills, such as balancing cash registers, that led her to a successful career in banking.
After about nine years in the banking industry, Dunlap said that "Prince Charming" came into her life in the form of Albert J. Dunlap. "He swept me off my feet, and life has never been dull since."
Life with Al Dunlap, a now-retired successful business executive, was "more like a roller-coaster ride than a merry-go-round," Judith Dunlap said. Over the years, they lived in 17 states and three foreign countries, and met dignitaries ranging from former President Reagan and former British Prime Minister Margaret Thatcher to former Soviet Prime Minister Mikhail Gorbachev.
All of those accomplishments and life adventures provided her with "some tips for your trip up the mountain," Dunlap told the graduates. Among those tips:
"Have a goal and a dream. If you have these two things, you will be more successful than you ever dreamt possible.
"I know some of you already have a job, and others will be looking for a job. When you secure that job, focus on it like a laser. Don't be looking here and there and wondering about the next promotion. If you focus like a laser on the job you have, I guarantee you that next promotion will come.
"Be passionate about what you do in life. Have a fire in your belly that never goes out.
"Be disciplined and determined. The only barrier in life that you can't get over is the one that you put there. If you don't believe you can do something, it will never happen.
"If you have five true friends in your life who will be with you through all your peaks and your valleys, you will have a blessed life."
Dunlap's commencement address was delivered to graduates of the colleges of Business; Education; Engineering; Human Sciences; Motion Picture Arts; Music; Nursing; and Social Work.
Prior to her address Saturday morning, Dunlap was presented with an honorary Doctor of Humane Letters degree that acknowledged the many philanthropic and humanitarian efforts she and her husband have undertaken over the years. In presenting the honorary degree, FSU Provost and Executive Vice President for Academic Affairs Garnett S. Stokes read off a list of the Dunlaps' many charitable endeavors, which included funding the Albert J. and Judith A. Dunlap Cancer Center in Judith Dunlap's hometown of Eau Claire; assisting economically disadvantaged children in Marion County, Fla., where the Dunlaps currently live; and operating a rescue farm operation for injured and abandoned animals in Ocala, Fla.
Also cited by Stokes was the Dunlaps' great and continuing generosity toward Florida State, funding both The Albert J. and Judith A. Dunlap Student Success Center and the new Albert J. Dunlap Indoor Training Facility.
The FSU Honorary Degree Committee, an advisory committee appointed by the president to represent the university community, considers nominations for honorary degrees throughout the year.
Dalal spoke at Friday's ceremony for the colleges of Arts and Sciences; Communication and Information; Criminology and Criminal Justice; Law; Medicine; Social Sciences and Public Policy; and Visual Arts, Theatre and Dance. He encouraged the graduates to prepare for the inevitable forks in the road of life by following three principles.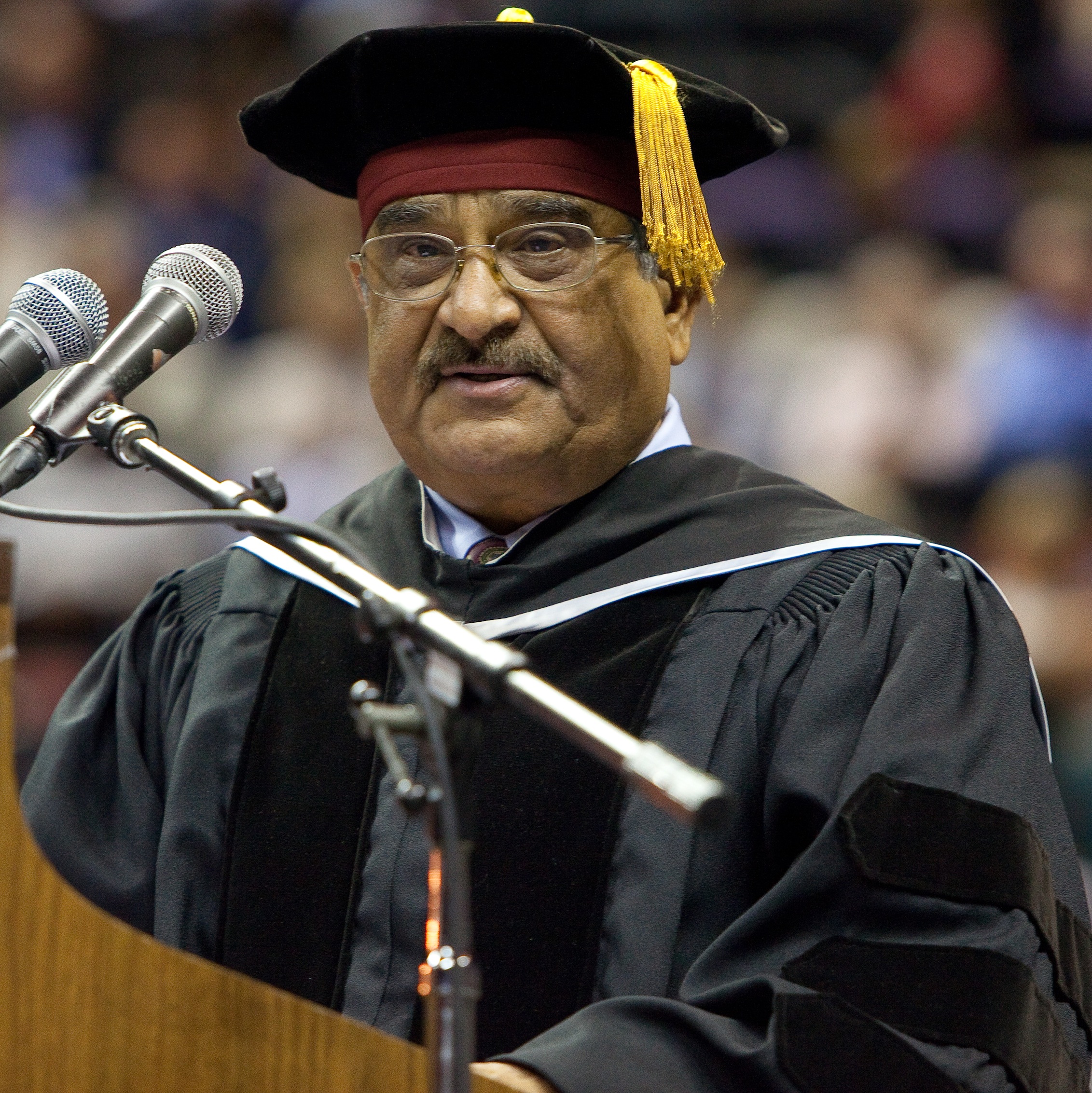 "First, have broad interests because no one can predict what the most desirable path will be," said Dalal, who started his career in nuclear science, but eventually switched his focus to chemistry. "Second, set the highest possible goals and do not fear failure. Finally, give your work a hard, focused effort to achieve the best results."
Dalal also advised the graduates to surround themselves with people who will actively inspire and encourage them.
"These are the people who will push you to be your best self and challenge you to meet your dreams," he said.
Dalal, Florida State's Dirac Professor of Chemistry and Biochemistry, specializes in materials science, particularly the workings of molecular magnets. Earlier this year, he was named the 2012-2013 Robert O. Lawton Distinguished Professor, the highest honor given by the FSU faculty to one of its own. In 2010, Dalal received the International Electron Paramagnetic Resonance Society's Silver Medal for Physics/Materials Science.
During the two ceremonies, an ocean of Florida State graduates made the transition from students to alumni. On Friday evening, Joseph Contreras, 23, an international affairs major from Wellington, Fla., characterized commencement as an "exciting first step toward something new."
"There is an entire world out there with unlimited possibilities to grab," Contreras said. "During my years here, I've experienced both athletics and academics. I was on the hockey sport-club team for four years and got to travel with them. I loved all my teachers. It is a great school. I wouldn't trade a thing for it."
Jamie Quinn shared Contreras' excitement in reaching the milestone of graduation.
"This is the culmination of two-and-a-half years of work," said Quinn, 24, a developmental psychology major from Pensacola, Fla. "I started my graduate degree here in fall 2010, and I will be starting my doctoral program here next semester. My mom really wanted me to walk tonight, so I'm walking for her and my grandmother, who is also here."