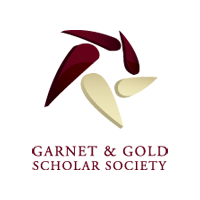 Florida State University President Eric J. Barron has inducted 12 students into the Garnet and Gold Scholar Society.
The prestigious academic society, created by Barron in 2011, recognizes outstanding undergraduate students each semester. Garnet and Gold Scholars are acknowledged for meeting membership criteria of excelling in at least three of five key areas — leadership, internship, service, international study and research — both within and outside of the classroom.
"This fall's group of inductees included one student from the Panama City campus, a student who plans to work for the Peace Corps in Africa and a future medical student," said FSU Vice President for Student Affairs Mary Coburn. "The Garnet and Gold Scholars are a unique and special niche group, representing the best of the best at Florida State."
The following students — along with their hometowns and academic majors — were inducted as Garnet and Gold Scholar Society members:
ARLINGTON, TEXAS
Jason Vogel, Professional Communication
CHAPEL HILL, N.C.
Michelle White, International Affairs
DAVIE, FLA.
Aurelie Mathieu, Editing, Writing and Media
FORT LAUDERDALE, FLA.
Katie Bolf, Economics and Political Science
LAKELAND, FLA.
Annie Smith, Media/Communication Studies and Editing, Writing and Media
LOS ANGELES
David Davenport, Biological Science
MIAMI
Daniel Moreno-Koenig, Finance and Management Information Systems
ORLANDO, FLA.
Tim Gooldy, Exercise Science and Business Management
PENSACOLA, FLA.
Bianca Salvaggio, Psychology and Mass Media Communications
TALLAHASSEE, FLA.
Kimora Williams, Social Work
WELLINGTON, FLA.
Ryan Chiarello, International Affairs
WESTON, FLA.
for more information about the FSU Garnet and Gold Scholar Society, contact Carolyn T. Barringer of the FSU Career Center at (850) 644-8625 or ctbarringer@admin.fsu.edu.