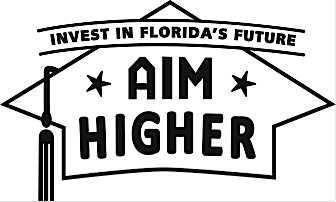 Launching a new initiative in partnership with student government leaders, Florida's state university presidents asked Wednesday for a $118 million investment for the State University System. With that kind of investment, they said they would be able to continue providing quality education without raising tuition by "even one penny."
The presidents highlighted the State University System's powerful economic impact — nearly $80 billion statewide annually — and its vital role in training Florida's future work force. They supported tying the additional state investment to performance goals, such as increased graduation rates.
"Florida's state universities are major economic engines, and there is no better return on investment than the funding the state allocates to higher education," said Florida State University President Eric J. Barron. "Increasing state support will allow universities to attract top-quality students and prepare them for a work force that is becoming increasingly dependent on highly skilled employees and cutting-edge research. Florida must have preeminent universities in order to keep its best and brightest in the state. An increase in funding would allow universities to move forward, while keeping tuition down in order to remain affordable and accessible to Florida's families."
The presidents' announcement at the Capitol kicked off the "Aim Higher" initiative, a student-led campaign focused on uniting students and community leaders in supporting more funding for higher education and raising awareness of the universities' strong returns on public investments.
"We encourage all Floridians to stand with us and our 330,000 students," said University of West Florida President Judy Bense. "Let's invest in future doctors and scientists who someday could save our lives, future engineers who will build safe roads and bridges, and future teachers who will provide our children with first-class educations. Let's invest in the future of our great state."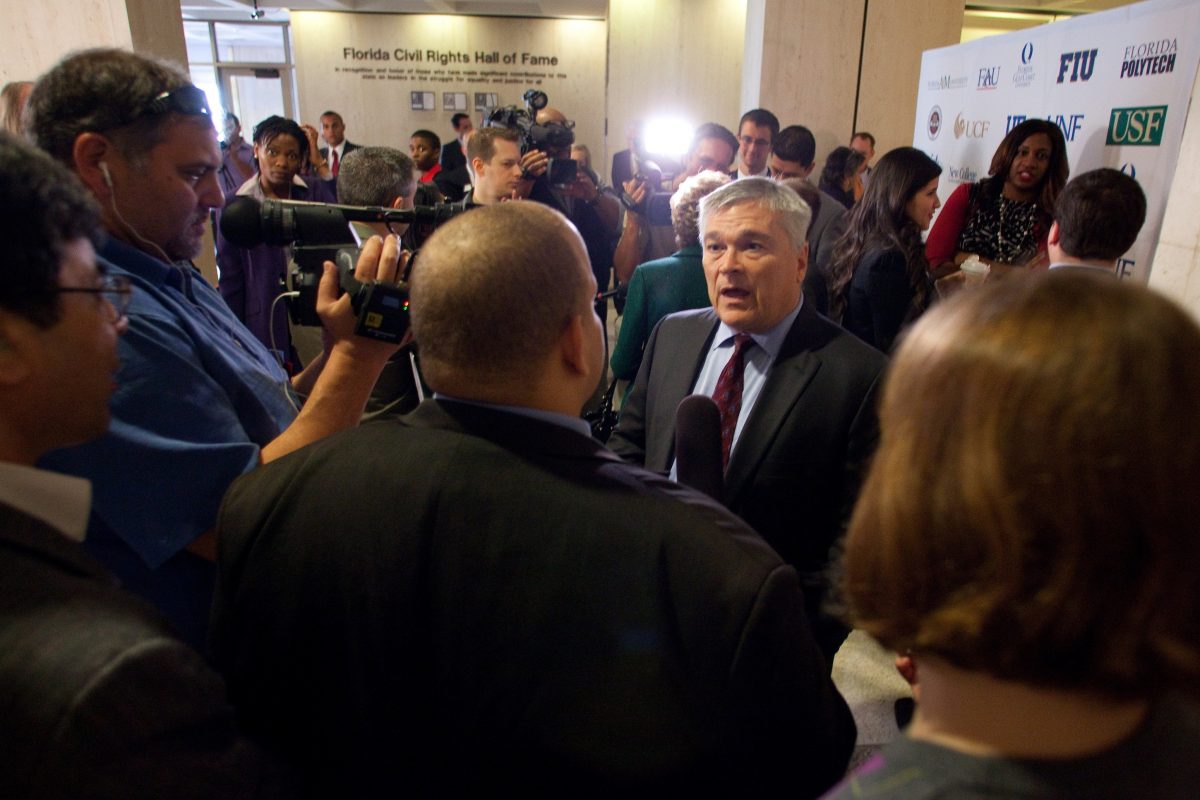 Although tuition at Florida's public universities remains among the lowest in the country, students and their families have faced double-digit tuition increases in recent years as universities have coped with severe state budget cuts. Funding to the State University System has been cut nearly 40 percent over the past five years.
A state investment of $118 million would generate the revenue of a 15 percent tuition increase across the system next year.
"Students and their families have invested in our universities more than ever during the past few years to help us maintain a high-quality education," said Cortez Whatley, president of the Florida Student Association and student body president at the University of Central Florida. "For the sake of our students, our businesses and our communities, we need to keep college education affordable and accessible."
State funding, which once covered about three-fourths of the cost of a student's higher education, now pays for less than half at most state universities.
Florida's public universities have a strong track record of spending tax and tuition dollars efficiently. As state funding has shrunk and enrollment has risen, universities have saved millions of dollars through cost-cutting efforts and the elimination or consolidation of academic programs.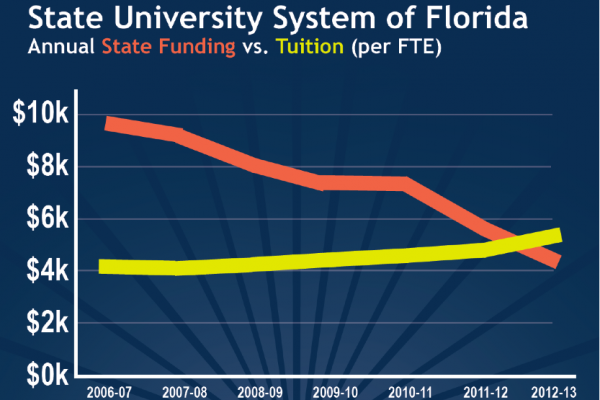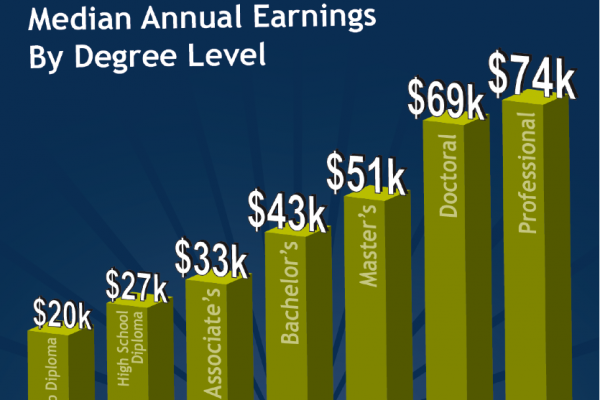 "We cannot continue to tighten our belts without impacting our students," Bense said. "For many of us, that may mean fewer class sections and students waiting longer to graduate."
University of Florida President Bernie Machen focused on state universities' roles as economic powerhouses and hotbeds of innovation.
Florida's universities attract more than a billion dollars of research money to the state each year, which helps to find cures for diseases, develop new technologies and prepare students for a variety of jobs and industries.
Just last week, the University of Florida opened its Research and Academic Center at Lake Nona in Orlando, anchored by UCF's College of Medicine. The center joins a burgeoning Medical City that has been described as the biggest economic game-changer for Central Florida since Walt Disney World. It's projected to generate 30,000 jobs and a total annual impact of $7.6 billion by the end of 2017.
"Our universities are heavily invested in our communities and our state," Machen said. "We are leading job creators and innovators, and we are the key to our state meeting industry demands for highly qualified employees. An investment in Florida's public universities is an investment our state's economic future."
Others in attendance at Wednesday's "Aim Higher" event included Florida A&M University President Larry Robinson; Florida Gulf Coast University Student Body President Peter Cuderman; Florida International University Student Body President Laura Farinas; New College of Florida President Donal O'Shea; New College of Florida Student Body President Michael Long; University of Central Florida President John Hitt; University of Florida Student Body President T.J. Villamil; University of North Florida President John Delaney; University of North Florida Student Body President Carlo Fassi; University of South Florida President Judy Genshaft; and University of South Florida Student Body President Brian Goff.
For more information, contact Kim Wilmath, communications director for the State University System of Florida, at (850) 661-9444 or kim.wilmath@flbog.edu.