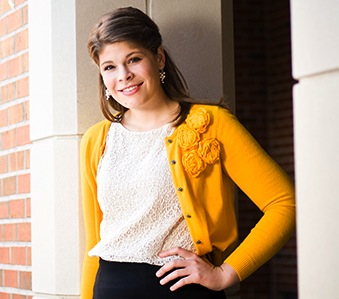 Madison Marks, a Florida State University senior studying issues surrounding Middle Eastern and North African refugees, was named a finalist for a 2013 Rhodes Scholarship on Nov. 17.
The scholarships, awarded annually to 32 U.S. college students, are the oldest and most celebrated international fellowship awards in the world. Though ultimately Marks was not among the Rhodes Scholars selected for 2013, she has earned the admiration of many at FSU for having advanced so far following a highly rigorous, months-long application and interview process, said President Eric J. Barron.
"The community of faculty and student scholars at Florida State University is extremely proud of Madison for this stellar accomplishment," Barron said. "We commend her for the way she has exercised her intellectual curiosity of the Middle East into a distinguished academic career."
Marks, a native of Jacksonville, Fla., chose to attend Florida State because it offered the only Middle East studies major in Florida.
"As a freshman, I immediately began taking junior- and senior-level courses in Arabic while I was trying to figure out which aspects of the Middle East that I really wanted to study," said the 22-year-old Marks, who is now fluent in Arabic.
Zeina Schlenoff, coordinator of the Arabic program in Florida State's Department of Modern Languages and Linguistics, lauded Marks as "accomplished beyond her years."
"Madison's ability to assimilate new material and learn a new language is excellent," Schlenoff said. "In class, her questions are always probing and well informed, indicators of an inquisitive and extensive intellect."
Marks found a Middle East studies mentor in Florida State history Associate Professor Peter Garretson, who introduced her to many of the issues faced by refugees throughout the Middle East and North Africa.
Garretson, who is co-director of the university's Middle East Center, has advised Marks on two projects. The first, a directed individual study in spring 2011, dealt with the Sudanese from the Nuba Mountains. The second, her ongoing Honors in the Major thesis, is a more generalized study of the Sudanese people.
Garretson praised Marks as a quick study who combines exceptional skills as a researcher and writer with a mature insight into whatever topic is at hand.
"Madison's work on the Nuba of central Sudan clearly revealed her abilities," Garretson said. "The Nuba are only recently beginning to emerge as a major topic of research in the Middle East and North Africa (MENA). Madison will be a major expert on them and the other problems of the Sudan, the Horn of Africa and MENA going forward."
To enhance her Arabic studies, Marks applied for and won two scholarships that enabled her to spend a year studying abroad in Amman, Jordan —a $7,000 Winthrop-King Undergraduate Summer Scholarship in Arabic, funded through Florida State's Department of Modern Languages and Linguistics, and a highly prestigious $20,000 Boren Scholarship, funded by the National Security Education Program to focus on study deemed critical to U.S. national security.
After returning home from Jordan, Marks spent this past summer interning with World Relief Nashville, which gave her the chance to apply the cultural and linguistic knowledge that she gained during her year in Jordan to working with refugees from a number of countries, from Iran and Iraq to Somalia and Ethiopia.
"I lived in the same apartment complex with many of my clients, so I was able to gain firsthand knowledge of the challenges that many incoming refugees face in adjusting to life in America," she said.
Marks' interest in the Middle East was fed early on by her father, who encouraged the family to embrace its diverse geographic and religious roots.
"My great-grandfather is from Iran, so I have Muslim roots, and at 13, I was given a 'Christianized' bat mitzvah to honor my Jewish roots," she said.
Her fascination with the Middle East deepened as a 16-year-old full-time, dual-enrollment community college student. While attending a conference, Marks met a group of Christian aid workers who told her stories about their service in North Africa.
"After that, I began to pay attention to current events and see some kind of future for myself in the Middle East in terms of employment," she said. "I became intrigued with several aspects of the Middle East — the language, the culture and the history — all of which made me want to study that part of the world."
Over the course of more than a century, Florida State has had five students named as Rhodes Scholars: Frederick William Buchholtz, 1905; Caroline Alexander, 1976; Garrett Johnson, 2006; Joe O'Shea, 2008; and Myron Rolle, 2009. In addition, Florida State had Rhodes Scholar finalists in 2009 and 2011.
Created in 1902 through a bequest in the will of Cecil Rhodes, a British philanthropist and colonial pioneer, the Rhodes Scholarship is the oldest international study award available to American students and is widely considered the most prestigious of its kind. Rhodes Scholars are eligible to continue their studies for up to three years, all expenses paid, at the University of Oxford in England, which is considered one of the world's top institutions of higher learning.