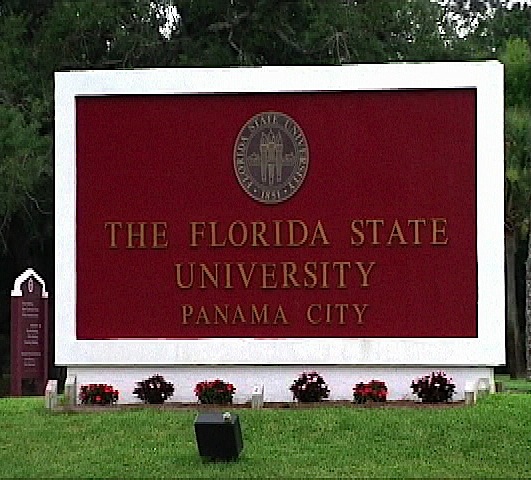 Florida State University President Eric J. Barron, Board of Trustees Chair Allan Bense and Panama City Campus Dean Ken Shaw welcomed students, alumni and special guests from the Panama City and Bay County community to celebrate the 30th anniversary of FSU Panama City on Oct. 30 at the 2012 FSU Panama City Annual Dinner.
The Panama City campus is the home of Florida State's College of Applied Studies.
"We are proud that for the past 30 years, Florida State University Panama City has provided students from northwest Florida the opportunity to study and graduate from one of the nation's top public, tier 1 universities with a nationally recognized degree," Shaw said.
The beginning
FSU Panama City has a rich history, starting in 1982 when the Florida Legislature and Board of Regents established the campus. The Bay County Commission was highly supportive of having a university within their community that they provided land for a permanent home for the campus. The natural beauty of the site overlooking North Bay and the beautiful live oaks creates an idyllic and peaceful place for students to obtain their education.
In 1983, the community celebrated the ground breaking for the first phase of construction. Three years later, the facilities were formally dedicated. The administration building was dedicated in honor of Senator Dempsey J. Barron, who was instrumental in the establishment of FSU Panama City.
A brief history
Through legislative initiatives in 1999-2003 to support branch campuses, FSU Panama City was able to expand to a full-service branch campus. For the first time full-time, daytime undergraduate programs were offered. With the new programs, additional facilities were needed. An Administrative Services Center was completed in 2007, which houses the central utility plant necessary for future buildings. In 2009, the Holley Academic Center began serving students. The three-story facility provides state-of-the-art classrooms, academic laboratories, an online library and learning resource center and a 500-seat multi-purpose lecture hall/community room.
The future
On June 8, 2012, the university's Board of Trustees approved a four-year academic plan for FSU Panama City. This allows the campus to offer a limited range of general education and lower-level courses that are focused on upper-level majors offered at FSU Panama City. This historic decision will allow admission of the first class of 200 freshman students in fall 2013. By 2016, it is anticipated that enrollment will exceed 2000 students.
Providing students with a bridge to a better life was instilled into FSU Panama City's philosophy from the outset and has not been lost through our 30-year history. FSU Panama City is committed to providing students with the highest quality of education to help them obtain great jobs.