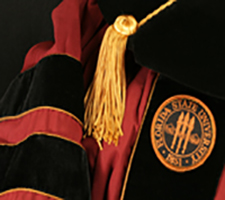 Florida State University reached a new high in the number of doctoral degrees awarded over the past year — a result of The Graduate School's effort to focus on recruitment and retention of doctoral students.
Last year, Florida State awarded 443 doctoral degrees, up from the previous record of 429 doctorates in 2010-2011. The numbers represent a 73 percent spike over the past decade.
"This shows that last year's record was not just a blip but part of an upward trend," said Nancy Marcus, dean of The Graduate School and the Robert O. Lawton Distinguished Professor of Oceanography. "The focus on recruitment of doctoral students that I began when I became dean seven years ago is beginning to bear fruit."
Marcus began to focus on doctoral education in 2005 as part of the university's efforts to increase graduate enrollment by 2 percent annually. The average time to earn a doctoral degree varies by discipline but is somewhere between five and seven years, so it makes sense that the university began to see a jump in the number of degrees awarded about two years ago, she said.
Master's degrees are also on the upswing, a fact that may be playing a role in the increase of doctoral degrees. One component of the university's recruiting efforts focuses on current master's degree students who may not have considered pursuing a doctorate.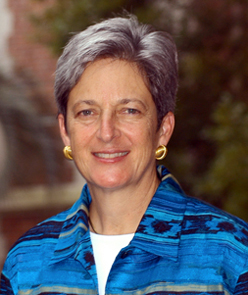 There's no doubt, however, that the university's stellar faculty members have aided recruitment efforts.
"The reputation of the faculty encourages applications, and as the reputation of the faculty goes up, so does the quality of applicants, and you have a better pool to select from," Marcus said. "The higher the quality of graduate students, the more likely they will complete their degree and in a faster amount of time."
The faculty deserves credit for supporting the university's goal of increasing the number of students who earn doctorates, Marcus said. After all, serving as a major professor to doctoral students takes a significant amount of time to guide research and review dissertations.
In addition, the university's new strategy goes beyond recruitment to a greater emphasis on retention and completion of the dissertation. Part of that focus involves a meaningful annual review designed to provide valuable feedback and keep students on track — especially important for those who struggle with competing demands of work and family.
The 443 degrees awarded last year include 403 Doctor of Philosophy (or Ph.D.), 24 Doctor of Music and 16 Doctor of Nursing Practice degrees, although the Survey of Earned Doctorates does not count the music and nursing practice degrees because they are not considered research degrees, Marcus said. Of the 429 total in 2010-2011, there were 400 Ph.D. and 29 Doctor of Music degrees. Florida State did not offer the Doctor of Nursing Practice degree at that time.
Doctoral degrees in science, technology, engineering and mathematics (STEM) have steadily increased in recent years as well, Marcus said. In 2011-2012, Florida State awarded 163 doctoral degrees in the STEM fields compared to 123 degrees five years earlier, a 33 percent jump.
But it isn't just about the numbers, Marcus said, noting that about half of those who earn doctorates stay in academia. The other half bring their knowledge and talents to the work force and the marketplace.
"Doing a Ph.D. is about the creation of new knowledge, new ideas," she said. "The end product isn't just about the dissertation. It's about moving forward as a society. Without the new knowledge, we would have the status quo. The number of degrees we award is evidence that Florida State University is contributing to the research enterprise in this country and internationally."