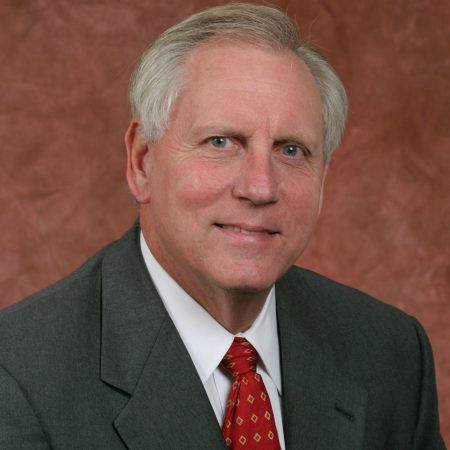 In recognition of his decades of public service both in higher education and in the political arena, Florida State University President Emeritus T.K. Wetherell was honored by Leadership Tallahassee on Sept. 20 as the organization presented him with its Lifetime Leadership Award.
The award recognizes an individual who has made significant, tangible leadership contributions to the Tallahassee community for more than 25 years. Emphasis is placed on individuals who have made substantive achievements in career and community arenas.
Wetherell received the Lifetime Leadership Award during Leadership Tallahassee's annual Distinguished Leadership Awards dinner and program, held at the University Center Club. In accepting it, he noted that he "stood on the shoulders of giants" in working for the betterment of Tallahassee.
"We have a group of people in this community who are committed to make life better for everyone who comes through this area," Wetherell said. "To be able to associate with these people, do work in this community, to develop friendships . . . I have been blessed never to have a job where I had to work for somebody, but I've had a job where I worked with an awful lot of good people."
Other members of the Florida State community were also recognized at the dinner:
Caryn Beck-Dudley, dean of the College of Business, was a finalist for the Leader of the Year Award. The award honors an individual whose ideas, vision and hard work achieved significant, tangible benefits for the community within the past year. Such work could include a focus on a particular initiative or project that improved the quality of life in Tallahassee.
Sherrill Ragans, a longtime Florida State University administrator who retired after 43 years with the school, was a finalist for the Servant Leadership Award. The award honors an individual who has demonstrated consistent community leadership and begun to achieve results beyond a single field of endeavor, combining efforts in business and nonprofit organizations.
Gene T. Sherron, retired professor of information studies, also was a finalist for the Servant Leadership Award.
A career educator who served in the Florida House of Representatives from 1980 to 1992, including two years as speaker, Wetherell earned his bachelor's and master's degrees as well as a doctorate in education administration from Florida State. He served as president of his alma mater from 2003 to 2010, guiding FSU to record heights despite years of severe state budget cuts.
During his presidency, Florida State enrolled what were at the time the most academically talented students in the history of the university, increased the number of doctoral degrees awarded, set new records for research dollars, and experienced a boom in campus construction.
An outstanding advocate for higher education who was considered the state's most politically astute public-university president, Wetherell proved to be a leader among his peers, pushing successfully for universities to assess a tuition differential in an effort to make up for budget shortfalls and continue to offer high-quality education to students.

Wetherell also launched the innovative and ambitious Pathways of Excellence initiative that included hiring additional faculty members in interdisciplinary "clusters" built around academic themes, substantial investments in new facilities, and significant investments in graduate-level programs with an emphasis on creating new interdisciplinary doctoral programs.
The most visible component of the Pathways initiative may be the $800 million worth of new construction and renovations, including state-of-the-art chemistry, biological science, psychology and medicine buildings, built during Wetherell's presidency that transformed the northwest corner of campus into a research quadrangle. Other projects included several new research facilities, three new residence halls, dining halls, parking garages, a general classroom building and the Alumni Center. Also completed was a $33 million renovation of Ruby Diamond Auditorium, located in the university's historic Westcott Building, into a beautiful, acoustically superior, premier performance hall.
Since stepping down from the presidency, Wetherell has returned to the classroom as a professor in the FSU College of Education. He also founded and serves as director of the Center for Higher Education Research, Teaching and Innovation, which conducts and promotes research on significant issues facing higher education in Florida.
Prior to serving as president of Florida State, Wetherell was president of Tallahassee Community College from 1995 until 2001. Before that, he was president of the Independent Colleges and Universities of Florida. Earlier in his career, Wetherell worked at Daytona Beach Community College and Florida Technological University, the latter now known as the University of Central Florida.