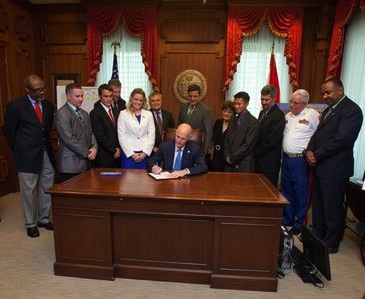 When Florida Gov. Rick Scott signed two bills that will help military veterans in their quest to earn college degrees, he invited one of the most veteran-friendly universities in the nation to witness the event: Florida State University.
Florida State President Eric J. Barron, Col. Billy Francis, director of the Florida State Veterans Center, and four Florida State student-veterans were asked to be on hand Thursday, Aug. 16, in the Governor's Office for the ceremonial signing.
Scott signed Senate Bill 532/House Bill 347, which provides statewide uniformity to the process enabling members of the U.S. Armed Forces to earn college-level credit for training and education they acquired while in the service, and House Bill 45, which requires certain Florida College System institutions and state universities to provide priority course registration for veterans. The bills went into effect July 1.
"It's just super to come here with these students to be a part of this bill-signing," Francis said. "Florida State has been giving priority registration since spring 2011 and giving credit for service and experience in the military. This is part of our efforts in support of our veterans coming back from service, transitioning into education and then into the work force."
Joining Francis at the signing were FSU Collegiate Veterans Association members Ryan Taylor, president; Austin Capers, vice president; and Quyet Dang, secretary. Signe Thomas, president of the Thank a Soldier Organization of FSU, also attended.
"It was an amazing experience to stand behind Rick Scott as he was signing these bills and to have that level of support that we have from the nation and the state government," Taylor said.
In addition to priority registration and credit for military training and education, Barron said the university is working on a number of other efforts to provide support and services to assist veterans in their transition to college and successful pursuit of a degree.
"You just sort of feel that energy of what it means to become a more veteran friendly institution," Barron said. "It's just the beginning. It's time to think about all those things to make sure that these men and women are highly successful, graduate and go off to great careers."