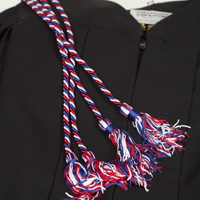 Starting with its Summer 2012 commencement, Florida State University has begun saluting its graduating student-veterans by bestowing them with red, white and blue honor cords to wear at graduation ceremonies.
Florida State is among the first universities in the nation to recognize graduating veterans with honor cords and will introduce the cords at Saturday's summer commencement. The ceremony took place Aug. 11 at the Tallahassee-Leon County Civic Center.
This summer, 32 veterans and graduates of the university's Army and Air Force ROTC programs earned the cords, which are being offered by the Veterans Center.
"We wanted to offer this special recognition to show the university's respect and gratitude for our student-veterans' service to our country and for the future service of our ROTC graduates," said Col. Billy Francis, director of the Florida State Veterans Center. "The cord is important because it is worn by someone who wrote a check payable in an amount up to and including their life to the people of the United States of America. It is a salute to this most honorable commitment."
Phil Lennon, president of the FSU chapter of the Collegiate Veterans Association, is one of the veterans who wore the honor cord as part of his academic regalia when he graduated with a degree in sociology and a minor in philosophy.
"The cord is a symbol of double achievement," said Lennon, who served in the U.S. Marine Corps from 2004 to 2008. "I served my country and reintegrated in the civilian community. It is intrinsically gratifying that Florida State has given us a chance to be recognized for these achievements."
The introduction of honor cords for veterans is part of Florida State's efforts to become the most veteran-friendly public university in the nation. The initiatives are designed to provide support and services to assist veterans in their transition to college and successful pursuit of a degree.