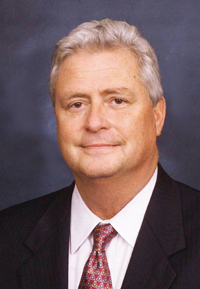 The Florida State University Board of Trustees has elected Trustee Allan Bense to succeed as chairman Wm. Andrew Haggard, who had completed his two-year term at the helm.
Haggard, a Coral Gables attorney elected chairman in 2010, remains a trustee on the board. His appointment ends in 2015.
Bense, a prominent Florida businessman and former speaker of the Florida House of Representatives, thanked Haggard for his service.
"I am humbled and very honored to have been elected as your chairman and look forward to serving Florida State University in this new board role," Bense told the trustees. "I also want to recognize Andy Haggard for his leadership and his impressive record of serving and supporting Florida State."
Bense, a Panama City resident, is the president and CEO of Bense Enterprises Inc., which is involved with road building, mechanical contracting, insurance and golf courses. He represented Florida's 6thDistrict from 1998 to 2006 in the Florida House of Representatives, where he was speaker from 2004 to 2006. A double alumnus, he holds a Bachelor of Science degree and an M.B.A. from Florida State.
Bense serves on numerous boards and councils, and is chairman of the board of the James Madison Institute. He is the immediate past chairman of the board of the Florida Chamber of Commerce, Enterprise Florida, HCA Gulf Coast Medical Center, Florida Taxation and Budget Reform Commission, and the Florida Council on Military Base & Mission Support. He serves on the board of directors of Gulf Power Company, the Florida Council of 100, and The Foundation for Florida's Future. He also serves on the boards of charitable organizations and as chairman of the board of the Bense Family Foundation, which makes contributions each year to various state and local not-for-profit causes.
Board members and FSU President Eric J. Barron congratulated Bense, citing his leadership in the business and political arenas as a strong asset to the board. They also praised Haggard as a passionate supporter of the university and the driver behind improvements in the way the board does its business, including holding one meeting a year at one of FSU's satellite campuses, such as the Ringling, and the implementation of workshops prior to board meetings.