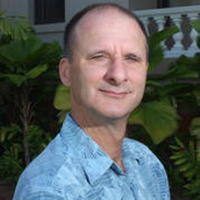 Florida State University President Eric J. Barron has announced the appointment of Gary K. Ostrander as vice president for Research, to begin this fall.
Serving as the senior research officer for Florida State, Ostrander will direct the Office of Research and all aspects of Florida State's research enterprise, including its research centers, programs and institutes. He will oversee a staff of 80 and a $29 million operating budget.
Ostrander currently serves as the vice chancellor for Research and Graduate Education at the University of Hawaii's flagship campus in Honolulu. He was selected for the Florida State position after a national search for a successor to Kirby Kemper, who is retiring after nine years in the position and more than 40 years as a member of the FSU faculty.
"Dr. Ostrander's academic credentials and accomplishments, demonstrated leadership and administrative ability, as well as his track record of funded research and personal research accomplishments, bring a breadth and depth of experience and strategic thinking to this position," Barron said. "His expertise in facilitating research, developing partnerships and addressing critical issues for the research community will help Florida State continue to build a strong and successful research program."
Ostrander has served in his current role at the University of Hawaii since 2005 and is credited with enhancing that university's research programs and capabilities. His own research has spanned from cancer biology to marine biology. In addition to faculty positions at Oklahoma State University and Johns Hopkins University, he previously served as associate provost for Research and chair of the Graduate Board at Johns Hopkins University.
In his new role at Florida State, Ostrander will focus on developing a strategic plan to expand research opportunities, identify new funding opportunities and develop collaborative partnerships across disciplines. He also will promote hiring new faculty in key areas of research and raising the national and international profile of Florida State's research and creative endeavors.
With recent prestigious awards and honors, an increased number of published research papers and scholarly works, as well as a total of nearly $204 million of external funding in 2011, there is a tremendous opportunity to capitalize on this momentum at Florida State, Ostrander said.
"I look forward to joining Florida State University's world-class community of scholars and the opportunity to enhance the institution's far-reaching network of research partners and collaborators," Ostrander said. "My wife, Frances, and I are also looking forward to becoming part of the Tallahassee community."
Ostrander received a bachelor's degree in biology from Seattle University, a master's degree in biology from Illinois State University, and a doctorate from the University of Washington. Initially, his research focused on exploiting novel aspects of the biology of aquatic species to address fundamental questions of cancer biology. In recent years, his research program has focused on laboratory and field studies aimed at understanding the worldwide deterioration of coral reef ecosystems.
The Office of Research at Florida State oversees the university's Council on Research and Creative Activity, as well as several administrative units including Federal Relations and the Office of Intellectual Property Development and Commercialization. Ostrander also will be Barron's nominee to serve as president of the Research Foundation.
Florida State hosts more than 50 centers and institutes, including eight research labs under the oversight of the Office of Research: the Center for Advanced Power Systems; the Coastal and Marine Laboratory; the Florida Center for Advanced Aero-Propulsion; the Florida Climate Institute; the Future Fuels Institute; the High Performance Materials Institute; the Institute for Energy Systems, Economics and Sustainability; and the National High Magnetic Field Laboratory.
Executive search firm Witt/Kieffer conducted the search for the vice president for Research, and Billie Collier, dean of the College of Human Sciences, chaired the 16-member search committee.