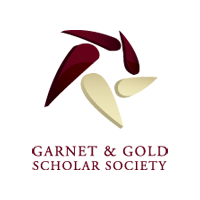 Florida State University President Eric J. Barron has welcomed 80 new students into the Garnet and Gold Scholar Society.
Each semester, the society, which was created by Barron in 2011, recognizes students who have excelled both in and outside of the classroom. To be eligible for consideration as a Garnet and Gold Scholar, students must meet membership criteria in at least three of five key areas –– leadership, internship, service, international study and research — and write an approved "synthesis reflection."
"This class of students is one of the most impressive yet," said Vice President for Student Affairs Mary Coburn. "They have taken their college experience to the next level by enriching their education through the becoming involved in these meaningful areas of the university. We are excited to see what the future holds for them."
The spring class of students, the largest class of inductees since the inception of the society, includes a variety of majors, interests and future opportunities.
The following students — along with their academic majors and hometowns — were inducted as members of the Garnet and Gold Scholar Society members in April:
Antioch, Calif.
Amanda Suppanich, psychology
Boca Raton, Fla.
Justin Gilchrist, finance
Brandon, Fla.
Dana M. Spyridakos, classical civilizations
Carlisle, Pa.
Laura Kelly, English
Cincinnati
Karen M. Vorholt, exercise science
DeLand, Fla.
Sarah Schlesinger, psychology
Eustis, Fla.
Michael Paul Carter, international affairs
Flagler Beach, Fla.
Amelia Edwards, literature
Fort Lauderdale, Fla.
Grant B. Gieseke, political science
Sandy Noel, international affairs
Zachoria S. Crockett, human resource management
Gainesville, Fla.
Amber McCroan, political science
Claire E. Van Susteren, public relations
Havana, Fla.
Amanda Gayle Maxwell, communication science and disorders
Hollywood, Fla.
Chelsea Danielle Albers, international affairs
Jacksonville, Fla.
Claire C. Butler, communication science and disorders
Collyn N. Stephens, management
Courtney Williams, information technology
Keturah Aline Brown, African-American studies
Kiara Jamere Wright, industrial engineering
Kristen Wharton, international affairs
Melissa Beaudry, international affairs
William D. Tetsworth, information technology
Melbourne, Fla.
Sarah Haber, marketing
Miami
Armando Mendez, international affairs
Carly A. Rodriguez, international affairs
Christine Lacayo, international affairs
Diane Victoria Morales, Spanish
Flor Morillo, business management
Hillary Lee Kirtland, marketing
Kimberly Rowe, media/communication studies
Landis C. Block, family and child sciences
Lourdes Rivery, psychology
Luis Vera, psychology
Margo L. Zwerling, exercise science
Michelle Avaroma, history
Miramar, Fla.
Alison J. Kearns, environmental studies
Belani E. Lopez, international affairs
Sahadia J. Auguste, international affairs
Naples, Fla.
Turner Garrett Cowles, editing, writing and media
Navarre, Fla.
Lisette D. Alvarez, international affairs
New Orleans
Ellen K. Baggett, philosophy
Niceville, Fla.
Erin Kathleen Welch, music-liberal arts
Melissa Gagliardi, nursing
Orlando, Fla.
Erin Ann Heffernan, international affairs
Jasmine Tinese Styles, media/communication studies
Jeanese M. Edmond, liberal arts
Joel John Koshy, biological science
Megan Thompson, public relations
Tiffany N. Taylor, criminology
Valerie Esther Crisostomo, hospitality management
Ormond Beach, Fla.
Kerry M. Boehm, public relations
Pace, Fla.
Alyssa Rae Smathers, human resource management
Palm Coast, Fla.
Nicole A. Holmen, editing, writing and media
Panama City, Fla.
Albert Jesse Bacon, social work
Sean August Libby, professional communication
Pensacola, Fla.
Charles J. Blay, exercise science
Pompano Beach, Fla.
Kaila Brittney Kowalski, media production
Reedville, Va.
Kelsi C. Jewell, criminology
Sarasota, Fla.
Monique Stephanie Lebar, special education
Satellite Beach, Fla.
Dylan Edward Monteiro, hospitality management
St. Petersburg, Fla.
Boondaniwon Phrathep, biochemistry
Sunrise, Fla.
Aviram Assidon, biological science
Moshtayeen B. Ahmad, international affairs
Tallahassee, Fla.
Adam LaRose, political science
Afaf Nidal Qasem, dietetics
Brandy Terry, information technology
Erin Peavy, media/communication studies
Mary Michelle Correia, social work
Sara King, international affairs
Tampa, Fla.
Catherine A. Lampi, international affairs
Kimberly Siddle, management
Melissa N. Martinez, family and child sciences
Samara Meichae Shepherd, finance
Toni Veronica Gadsden, social work
Tierre Verde, Fla.
Taylor L. Bouwmeester, professional sales
West Palm Beach, Fla.
Caitlin E. Stull, political science
Chelsea Erin Rossin, psychology
Olivia Joyce Matheson, nursing
Sandon Lee Simmons, physics and astrophysics