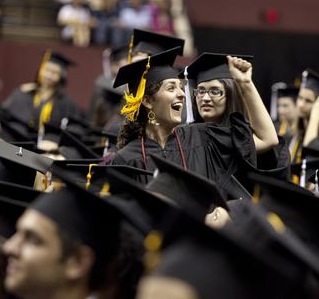 An esteemed scientist and writer, a key official in the Obama administration, and one of the nation's most popular sports broadcasters each offered congratulations and words of advice to new Florida State University graduates during three commencement ceremonies spread over two days on April 27-28.
Leading evolutionary biologist and two-time Pulitzer Prize winner Edward O. "E.O." Wilson, U.S. Under Secretary of Commerce for International Trade Francisco J. Sánchez and ESPN personality Lee Corso each spoke to a packed house at the Tallahassee-Leon County Civic Center. About 4,000 of 6,200 graduating Florida State students participated in the ceremonies.
Corso, a Miami native and two-time FSU graduate, spoke at the third and final commencement on Saturday afternoon after receiving an honorary Florida State doctorate in Humane Letters. The degree was presented by Florida State President Eric J. Barron.
Corso then addressed the graduates of the colleges of Business, Education, Music and Social Work. He discussed the importance of relationships, character, loyalty, family and perseverance much like a coach would give a pep talk to his team.
"Building good, solid relationships is one of the most important keys in life," Corso said. "Don't let social networks take the place of face-to-face relationships."
He compared relationships to a cookie jar and encouraged the graduates to give back as much as they take so the proverbial jar won't wind up empty.
Corso said good teams are built with people of character, not "characters" who display no respect. Another crucial ingredient is loyalty.
"You never get rid of a good, loyal, hardworking person," he said. "When you find someone with loyalty, you keep him."
Corso underscored the importance of family.
"You can't do enough for your family," he said. "When you think you've done enough, do more."
He reminded graduates that success isn't defined by never failing, but in rising every time they fail.
As a defensive football player at Florida State, Corso set the team record for most career interceptions with 14, a record that stood for more than two decades.
As a football analyst for ESPN, Corso has been featured on ESPN's "College GameDay" since it began in the late 1980s. He is legendary for his quirky sense of humor and for ending every show by wearing the headgear of the school mascot for the team he predicts will win. During the off-season, Corso serves as director of business development for a Florida-based pencil manufacturing company.
Sánchez spoke Saturday morning to graduates of the colleges of Communication and Information, Engineering, The Graduate School (materials science graduates only), Motion Picture Arts, Social Sciences and Public Policy; and Visual Arts, Theatre and Dance.
Sharing stories from his own background in which taking a chance had changed his life for the better, Sánchez recommended that the new graduates do the same.
"I urge you to take risks and follow your passion because it's the only way you'll satisfy yourself; and learn skills that give you the best chance to succeed when you do take those risks," he said. "And as you think of success, find ways to make a difference in the world."
A native of Florida, Sánchez grew up in Tampa's historic Ybor City.He graduated with a bachelor's degree from Florida State in 1982, and in 1986 he earned his J.D. from Florida State's College of Law. He also earned a Master of Public Policy from Harvard in 1993.
In 2009, President Obama nominated Sánchez to be Under Secretary of Commerce for International Trade. As the head of the International Trade Administration, he oversees the development of U.S. trade policy, promotes American companies worldwide, strengthens the country's competitiveness and administers U.S. trade laws.
To the graduates sitting before him, Sánchez stated, "Now it's time for you to write your own stories.
"Always remember that you are the authors of your destiny, and can shape the next chapter of your lives in any way that you want."
On Friday evening, leading evolutionary biologist Wilson offered gentle words of inspiration — and a little nudge to pursue a calling of "discovery" — when he delivered the kickoff commencement address.
"In this country, the sciences and the humanities rely on the knowledge and skill you have mastered," Wilson said in a quiet voice filled with conviction.
A two-time winner of the Pulitzer Prize for general nonfiction and a renowned researcher, theorist and naturalist, Wilson addressed graduates of the colleges of Arts and Sciences, Criminology and Criminal Justice, and Human Sciences.
"Remember that in entrepreneurship and science, every problem is an opportunity," Wilson said. "Have the confidence to discover, find, learn, teach and excel."
A longtime Harvard professor and author of more than 20 books — many considered scientific masterpieces as well as influential popular works — Wilson also received an honorary Florida State doctorate in Humane Letters. The degree was presented by Barron.
Wilson, 82, is considered one of the world's most prominent conservation biologists — a visionary and critical thinker who sees problems in terms of the "big picture" and argues for scientific approaches to solving them. His contributions to science have been recognized globally, and he is considered the chief inventor of the field of sociobiology, the study of the biological basis and nature of social behavior. Wilson's biological specialty is myrmecology, the study of ants, and he is thought to be the premier expert on the tiny insects.
Wilson wished the students the best — and perhaps most intangible gift of all: "Someday, at the conclusion of a long life, I wish you a calling of satisfaction," he said. "And you will have a life well-lived."
Archived webcasts of all three commencement ceremonies can be viewed here.
Florida State's Panama City Campus held its commencement ceremony April 29 at the Panama City Marina Civic Center. Keynote speakerAl McCambry, general manager of the Knology Panama City Division, discussed the choices and crossroads that life presents.
"As you continue through these next chapters in your book called life, you will face additional crossroads and choices — and you will make mistakes," McCambry said. "But that is OK. Life isn't about just the mistakes, but how you choose to benefit from those experiences and learn from them and move on. Don't let the place you start dictate where you finish."
McCambry encouraged the Panama City Campus graduates to "fight for their futures" and "never give up."
A total of 420 degrees were awarded during the 2011-2012 academic year to students attending the Panama City Campus; approximately 250 graduates participated in the ceremony.
In other graduation news:
The Florida State College of Medicine will hold its commencement ceremony at 10 a.m. Saturday, May 19, at Ruby Diamond Concert Hall for 117 students receiving Doctor of Medicine degrees. Charles Ouimet, a professor in the college's Department of Biomedical Sciences, will be the speaker. Ouimet is course director for clinical neurosciences at the College of Medicine, and his research focuses on neurodegeneration as seen in Alzheimer's and Huntington's diseases. In 2005, he received Florida State's Distinguished Teaching Award, one of 24 teaching awards he has received during his career at Florida State.
The Florida State College of Law will hold its spring commencement at 10 a.m. Saturday, May 5, at the Tallahassee-Leon County Civic Center. Florida Supreme Court Chief Justice Charles Canady will be the commencement speaker. About 235 of the school's graduating students are expected to participate in the ceremony, which will be followed by a reception on the law school green.
The convocation ceremony for Florida State's College of Nursing was held April 27. Professor SallyKarioth spoke at the event, in which83 candidates for bachelor's degrees and 12 for Doctor of Nursing Practice degreeswere recognized.
Florida State's U.S. Army ROTC commissioned 27 cadets on April 28. The guest speaker was Army Maj. Gen. Ben Hodges. Hodges has held command positions at the company, battalion and brigade levels, all while assigned to the 101stAirborne Division. His most recent operational assignment was as deputy commander of operations at Regional Command South in Kandahar, Afghanistan. He currently serves as chief legislative liaison for the Secretary of the Army.