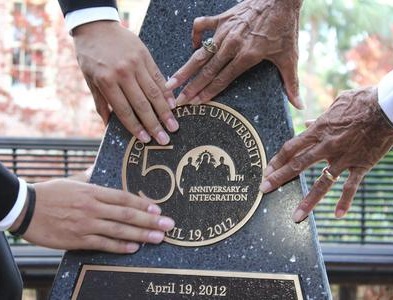 A diverse crowd that included black and white, young and old, gathered on the Florida State University campus April 19 to commemorate the university's 50th anniversary of integration.
During a ceremony combining solemn reflection and festive pageantry, the crowd, composed of more than 1,500 Florida State students, faculty and staff as well as members of the community, took part in "Hand in Hand Across Time," an event that honored the pioneers of the university's integration era. Three separate human chains stretched across campus as commemorative medallions were passed from person to person.
Florida State President Eric J. Barron, speaking in the shadow of the university's Integration statue, said that even though the university's integration took place without physical violence, it nevertheless took courage.
"The pioneering students who were admitted in the 1960s began a remarkable transformation of this university," Barron said. "There is a deep understanding all across Florida State University that the more varied our academic community is, the more we are all enriched."
"To be celebrated and recognized for what we did so long ago is a blessing from God," said Fred Flowers. "I wish my mother and father were here to see this. I'm sure they're smiling from heaven to see what their children have done."
The importance of the commemoration is twofold, Doby Flowers added.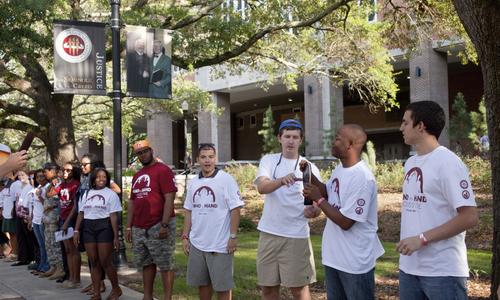 "We've not forgotten, and we've come a long way," she said. "By not forgetting, we understand that we have a ways to go."
Saisha Delevoe, a Florida State senior from Hollywood, Fla., majoring in finance and hospitality management, called the commemoration "absolutely amazing."
"It says so much about what minorities have here and what their purpose is here, that we all are really one people, and that color or race really has nothing to do with that," Delevoe said.
Turenne Metayer, a senior biology major from Jacksonville, Fla., said he feels proud to be a part of a university where people of all races would willingly come together to remember such a landmark event.
Prior to the April 19 ceremony, the atmosphere on Florida State's Woodward Plaza took on the air of a family reunion, with people pausing to have pictures taken with one another and laughing uproariously.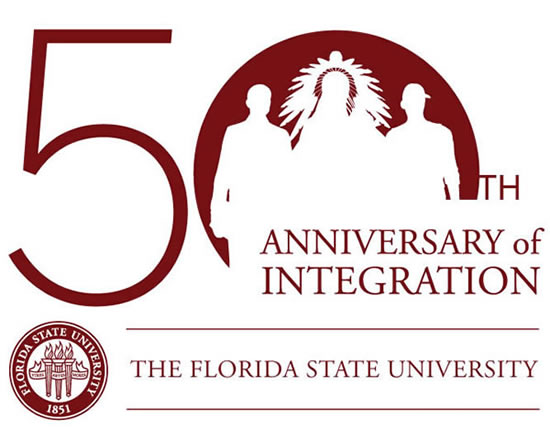 During the event, Tallahassee Mayor John Marks read a proclamation and Leon County (Fla.) Commissioner Nick Maddox read a resolution to mark the occasion. In addition, Kiaira McCoy, president of Florida State's Black Student Union, said today's students are constantly reminded of the legacy that past generations have laid before them.
"As we celebrate the accomplishment of those first 12 brave students who enrolled at Florida State 50 years ago, positively altering the course of our history, we the current students are charged with the task of continuing to pass along the values of unity and diversity to future generations," said McCoy, who is a senior majoring in marketing and professional sales.
The day's events culminated with "Hand in Hand Across Time," a dramatic human chain designed to represent the legacy of Courtney, Fred Flowers and Doby Flowers. Approximately 1,500 participants were expected, although the actual turnout appeared significantly larger.
While the Tallahassee Boys Choir and the Florida State Men's Chorus took turns performing, hundreds of students, faculty, staff and alumni formed a three-branch chain, which radiated from the Integration statue to three points on the edge of campus.
In a stirring display of community, an engraved metal disk was passed from hand to hand along each branch to signify the importance of passing along the values of diversity and unity. At the ends of the chains, the medallions were placed on specially commissioned, permanent monuments — 4-foot terrazzo pyramids created by artists at Florida State's Master Craftsman Studio. Each monument bears the inscription "Starting at the Integration Statue, this disk passed hand to hand along a human chain of hundreds and was set into this pyramid to symbolize the broad reach of diversity across campus."
The commemoration events continued through the weekend.
On April 20, Fred Flowers was recognized at the Florida State-University of Miami baseball game, where he threw out the first pitch. (View photos from the event here.) On the same day, a reception to honor multicultural students who are graduating this year was held at the university's Oglesby Union Ballroom.
And on April 21, "An Evening with Maya Angelou," featuring a talk by the celebrated poet, took place at the Tallahassee-Leon Civic Center. Now 84, Angelou has published six autobiographies, five books of essays, numerous books of poetry, and is credited with a long list of plays, movies and television shows.
A celebrated 20th-century American writer who has won dozens of awards and holds more than 30 honorary doctoral degrees, Angelou is best known for several autobiographical works that focus on her childhood and early adult experiences, including "I Know Why the Caged Bird Sings" (1969), the story of the first 17 years of her life.
Read more about "An Evening with Maya Angelou" here.
For more information on Florida State's "50th Anniversary of Integration" events, visit www.fsu.edu/integration.