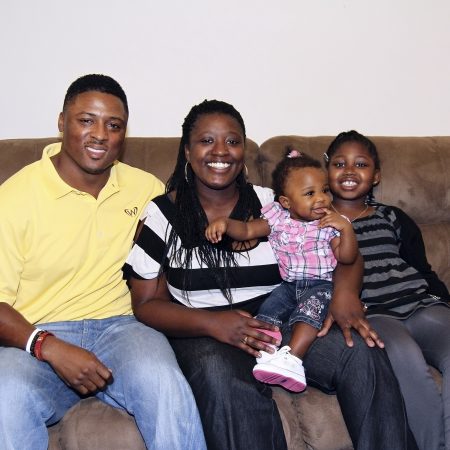 With some assistance from a Florida State University football great, another family now has a house that they can call home.
Florida State employee Valencia Davis and her two daughters, 7-year-old Prestiona and 11-month-old Prestyn, had quite a surprise on April 13 when they pulled up to their new Tallahassee home. There to greet them was a yard full of friends and family — and in their midst, famed football player and philanthropist Warrick Dunn.
Dunn was on hand to present Davis with the keys to her new home, as well as a $5,000 donation from the Florida League of Cities toward the down payment. The latter contribution will significantly lower her monthly mortgage payments for years to come.
The Davises had even more surprises in store when they stepped inside. With support from Warrick Dunn Charities and other groups, the house had been completely furnished with linens, bedding, a fully stocked kitchen, a beautiful new home décor, and numerous other small touches that made them feel welcome.
"This is like a dream come true, and I'm so grateful that God gave me the strength to put all my hours in to get to this day," said a teary-eyed Davis, who has been working as part of the janitorial staff at Florida State for the past five years.
Her new home was recently built by teams of volunteers from the FSU chapter of Habitat for Humanity, Big Bend Habitat for Humanity and the Tallahassee Board of Realtors. Davis herself contributed 400 hours of labor to its construction, as well as to homes for other Habitat for Humanity recipients. All the while, she said, she kept in mind her longtime goal of providing a better life for her daughters through homeownership and by becoming financially stable.
Dunn said that the new home and furnishings were well earned.
"I am so honored to be here today to reward Valencia for her hard work," he said. "This program is an extension of the community coming together to help those who are helping themselves, and she deserves this gift."
Warrick Dunn Charities is a public charity serving single-parent families in the Tallahassee, Tampa, Atlanta and Baton Rouge, La., areas. Dunn, now a part-owner of the NFL's Atlanta Falcons, started the charity's Homes for the Holidays program in 1997 during his rookie season in the league to honor his late mother's own dream of homeownership. Betty Smothers, a Baton Rouge police officer, was killed while working an after-hours security shift when Dunn was an 18-year-old high school senior.
In honor of the recent Easter holiday, the Davis family was selected as Dunn's most recent family
For each family that is chosen, the program's presenting sponsor, Aaron's Inc., provides furniture ranging from beds and mattresses to a luxurious living room set for the family to enjoy. Warrick Dunn Charities staff members and volunteers also shop for and decorate the home to correspond with the family's style, instantly transforming a sparsely furnished house into a home that they can enjoy for years to come.
Through Homes for the Holidays, Dunn said he memorializes his mother while giving back to the communities that helped make him the man he is today. To date, in partnership with Aaron's, Dunn's charity and its sponsors have rewarded 112 single parents and 297 children in the Tallahassee, Tampa, Atlanta and Baton Rouge areas for achieving the American dream of becoming first-time homeowners.
Members of the public who are interested in contributing to Warrick Dunn Charities can make an online donation here.
For additional information, contact Amanda Hamman, community relations coordinator for Warrick Dunn Charities, at (404) 367-2230 or hamman@wdc.org.
Photo and video courtesy of Seminoles.com