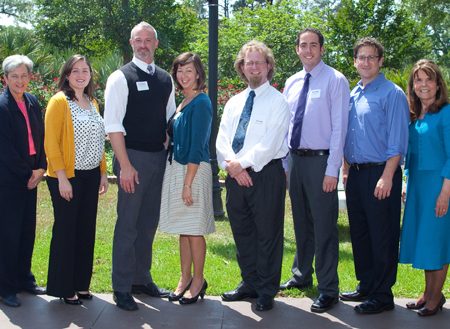 Florida State University honored the achievements of its graduate students during the annual Celebration of Graduate Student Excellence April 11. Students were recognized for excellence in teaching, research, creativity and leadership. The Graduate School, the Office of Research, and the Congress of Graduate Students cosponsored the event.
In discussing her own graduate school experiences, Provost and Executive Vice President for Academic Affairs Garnett S. Stokes encouraged the students that their hard work and commitment is worth the effort. She praised them for their dedication and contributions to the university community.
Joining Stokes during the ceremony were Nancy Marcus, dean of The Graduate School; Judy Devine, senior associate dean of The Graduate School; Connie Eudy, director, Program for Instructional Excellence, The Graduate School; and Rebecca Ormiston, graduate student in the School of Theatre.
"It was an honor to meet these exceptional graduate students," Marcus said. "On behalf of The Graduate School, we offer congratulations to all of them for their outstanding achievements."
Steve Zimmer, business development manager for Sony Direct, also attended the ceremony because of the Sony Corporation's partnership with the FSU Computer Store and The Graduate School. Through the partnership, randomly selected graduate students and junior faculty members received technology packages featuring a Sony Vaio Notebook, a Sony MP3 player and a Sony Webbie HD camera.
Research and Creativity Awards were given to recognize outstanding research and creativity in the academic community at FSU. The recipients were: Joshua Cochran (Criminology); Elise Gornish (Biological Science); Sebastian Kurtek (Statistics); Zarko Manojlovic (Biomedical Sciences); and Adam Smith (Neuroscience).
Peter Kunze, (English) received the distinguished Graduate Student Leadership Award.
Outstanding Teaching Assistant Awards, nomi­nated by faculty, staff and students, were given to recognize excellence in teaching and substantial contributions to student learning at FSU. The recipients were: Deirdre Carter (Art History); Eric Jones (Biological Science); Tony Purvis (Interior Design); Jennifer Sexton (Management); Ryan Shields (Criminology); and Spencer Wise (English).
The Fellows Society held an interdisciplinary poster session during the event, which showcased the current research of the following fellows: Jean Kleimeyer (Clinical Psychology); Josh Cossuth (Earth, Ocean, and Atmospheric Science); Andrea Arce-Trigatti (International Affairs); Jennifer Misuraca (Physics); Sungkyu Jang(Public Administration and Policy); and Jane McPherson (Social Work).
Florida State graduate students continue to accrue honors, grants and fellowships. A few such accomplishments were recognized during the ceremony: Josh Grinath (Biological Science), Environmental Protection Agency (EPA) Science to Achieve Results (STAR) Fellowship; Jennifer Misuraca (Physics), Philanthropic Educational Organization (P.E.O.) Scholar Award; Amber Sargent (Interior Design), Network of Executive Women in Hospitality (NEWH) Platinum Scholarship; April Smith (Psychology), Philanthropic Educational Organization (P.E.O.) Scholar Award; Debra Trusty (Classics), NSF Dissertation Research Improvement Grant; and Chelsie Wagner (Biological Science), NSF Graduate Research Fellowship.