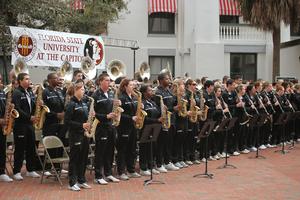 The courtyard between Florida's old and new Capitol buildings was filled with the sights and sounds of Florida State University on Feb. 7 as the university celebrated its annual FSU Day at the Capitol. The pep band Seminole Sound played traditional school songs, Florida State cheerleaders encouraged school spirit, and members of the Flying High Circus wowed an outdoor crowd composed of students, faculty, alumni and community members with acrobatics and tricks.
FSU Day at the Capitol is an annual event held to celebrate the university's accomplishments and the value that Florida State holds for the city of Tallahassee, the state of Florida, the nation and the world.
Kicking off the event, the "Voice of the Seminoles," sports announcer Gene Deckerhoff, proudly displayed his garnet and gold pride while introducing President Eric J. Barron. Barron spoke about recent achievements at FSU, such as having five Rhodes Scholar finalists in six years, being named one of the most efficient universities in the nation in its ability to deliver a quality education per dollars spent, and ranking first in the state for funding for STEM (science, technology, engineering and mathematics) research.
"We are a family, and we're going to make sure that everybody is successful when they come to Florida State University," he said.
Student-athletes were also recognized, as members of the women's cross-country, volleyball and soccer teams, as well as the football team, came to show their support.
Honored as well was the Seminole Legislative Caucus — Florida State alumni and supporters who serve in the Legislature. Rep. Jimmy Patronis, R-Panama City, who serves as vice chairman of the caucus, spoke about the group's influence on the well-being of FSU and the State University System as a whole.
"We try to create some bonding and strengthening of FSU in the legislative process," Patronis said. "FSU Day at the Capitol creates a heightened awareness and allows us to educate the Legislature on the State University System."
Inside the Capitol, garnet and gold banners representing most of Florida State's 16 colleges and many of its research centers and institutes were draped from the second and third balconies surrounding the lobby. Each group in attendance also had an informational booth on display to better educate the public on the happenings at FSU.
Kathleen Daly, Florida State's assistant vice president for Governmental Relations, said she hopes that such displays represent what has been accomplished recently at the university.
"I hope that by seeing these displays, people conclude that we are a well-rounded university offering a lot of quality for the little money they give us, and that we really are a player on the national scene," she said.